Pray, Pray, Pray on Display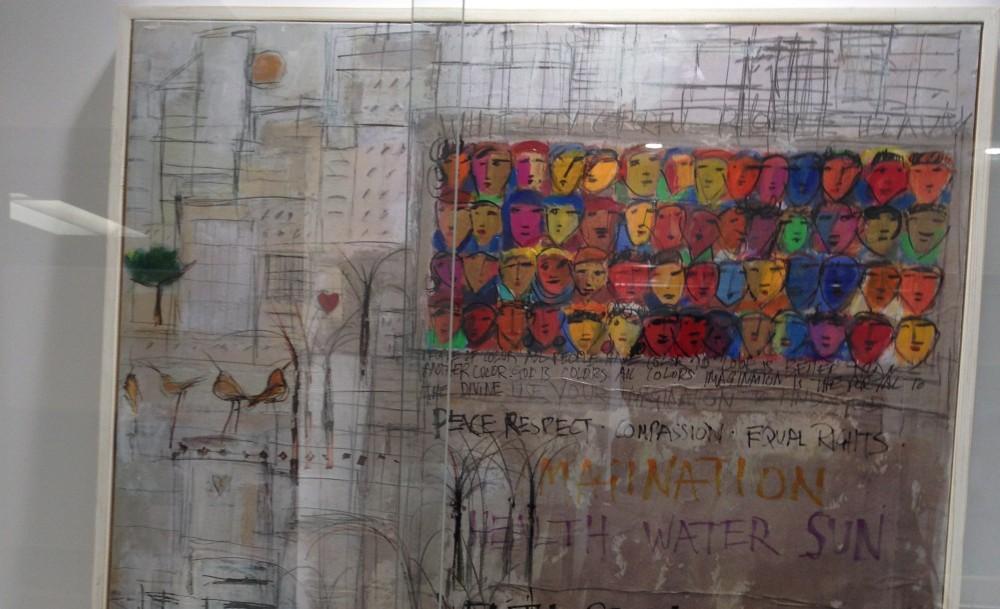 This Thursday members of the University of Minnesota community came together in the Great Hall of Coffman Memorial Union to celebrate the opening of Johanan Herson's Pray, Pray, Pray art exhibition. This event included a dinner and musical performance by Tamar Eisenman, as well as a talk by Johanan Herson himself.
Herson's talk focused on his journey to find his identity in a pluralistic world. He arrived at the conclusion that all religions are worshiping the same god, and he emphasized faith as the most important aspect of religion. He also spoke heavily about "Tikkun Olam," which is a Jewish concept of "Repairing the World." Herson presented peace and understanding between faiths as the way forward in repairing the world today.
After the formal talk, Johanan Herson walked up the stairs to the exhibition and provided additional insight into the message he was promoting: "The world was created for us and I have to take responsibility and make it a better place for everybody. We're wrapped up in political struggles and animosity and we have lost our ability to listen and to find that compassion which allows us to all be who we are. We're living in a terribly extreme time."
The exhibit, located on the second floor of Coffman Memorial Union, is an expression of Jewish culture in the form of 5 acrylic paintings. One painting shows the word "peace" with the names, "Jesus, Jehova, and Allah" written below, as though they were written from the other side of a window. Other paintings show universalistic messages such as, "one God, many names," and "God is in everyone."
Jeremy Cantor, a member of Minnesota Hillel, spoke highly of Herson's message and art. "I play soccer, and music and art are like soccer in that they can bring people together from all parts of life." Jeremy emphasized the cultural aspects of Judaism over the religious. "I see Judaism as a way for you to connect with God, for you to continue to question and understand yourself and your community."
This will be the second gallery Johanan Herson has displayed in the Minneapolis area since 2014, when a collection of his was displayed at the Cubano Gallery in Golden Valley. Pray, Pray, Pray will be displayed on the second floor of Coffman Memorial Union until March 5.
The event was a collaborative effort between Students Supporting Israel at the University of Minnesota, Minnesota Hillel, Davis and Goldfarb Law, PLLC & Black Dog Productions, and LLC.