Black Lives Matter Protests Cause Shutdown and Delays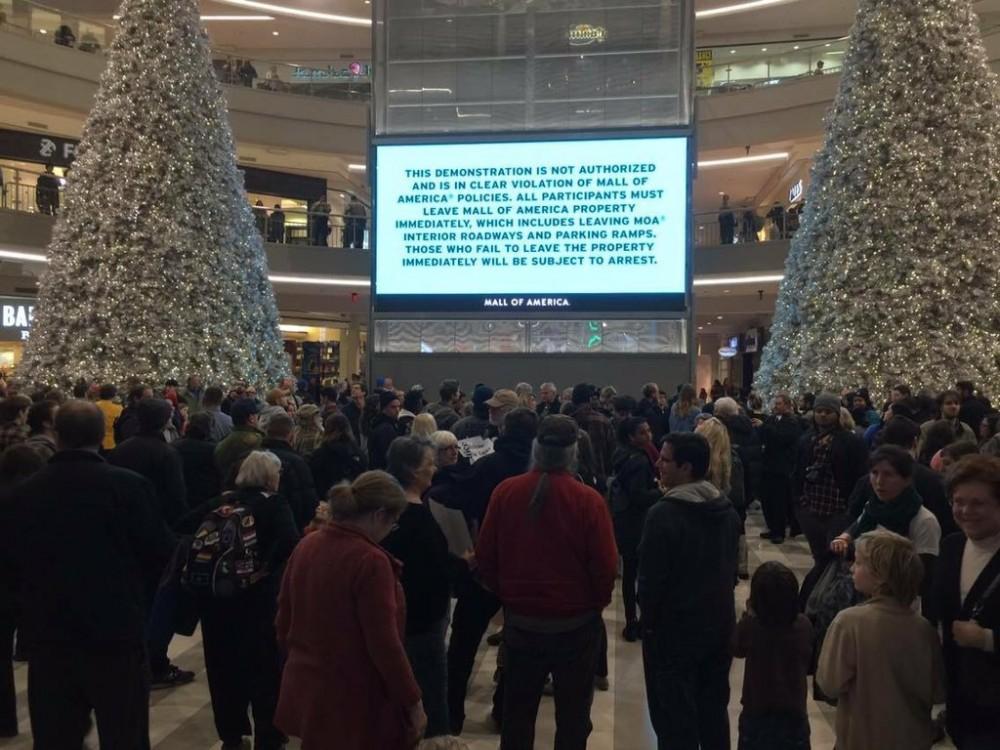 A protest organized by the social justice action group Black Lives Matter at the Mall of America resulted in the mall being shut down temporarily and delays at the Minneapolis-St. Paul International Airport lightrail stops.
The protest, which began at the main rotunda in the Mall of America at 1:30 PM on December 23, has been the subject of much controversy since its announcement. Executives at the mall informed protesters that they would not play host to such a disruption, alerting the group that attendance could result in arrest. The group refused to back down, and the mall pursued legal action. Three organizers were legally banned from attending, but they could not stop the actual protest from occurring.
A group of approximately 600 protesters gathered in the main rotunda of the mall. Beginning at 12:45, stores on the Rotunda side of the mall began closing down until the protest subsided. In the run up to the protest, police in riot gear blocked all exits from the rotunda. Signs were posted on all electronic displays reading "This demonstration is not authorized and is in clear violation of Mall of America policies. All participants must leave Mall of America properties immediately, which includes leaving MOA interior roadways and parking ramps. Those who fail to leave the property immediately will be subjected to arrest."
The protesters were ushered from the rotunda and down to the Mall of America lightrail stop. The attendees reportedly boarded a train and traveled to the Lindbergh terminal stop at the Minneapolis-St. Paul International Airport. Protests disrupted the lightrail schedule, shutting the Lindbergh terminal stop for approximately 90 minutes. During this time, protesters and disgruntled civilians were arrested by police in riot gear.
The protest, dubbed "BlackXmas" by organizers, was scheduled to raise awareness for the killing of Jamar Clark, an African American man killed by police on November 16.