Sen. Rubio and Rand at CPAC 2013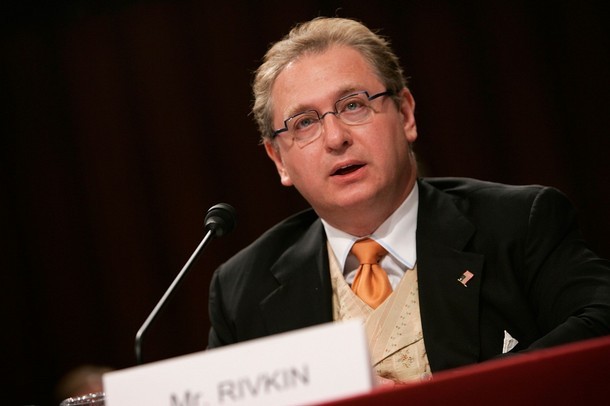 Reinventing,re-energizing and rebuilding were popular euphemisms used at CPAC 2013. Many speakers called for more unity in the Republican party. They blamed the Party's poor performance on a lack of Party cohesion. Also, many called for growing the tent, and they cited hard-line platform issues as a hindrance on Party growth.
Two speakers, Marco Rubio and Rand Paul, offered two different perspectives. Rubio's speech focused on the American values of economic freedom, equality of opportunity, and traditional values. Paul's speech focused on specific issues related to civil liberties, the Constitution, and economic freedom. Paul's speech was straightforward and was more a list of grievances than a typical speech. Rubio's speech was one of ideals. Both speeches were good in their own way.
Marco Rubio offers his take on the state of the country and the path the party should take in an enthusiastic and optimistic fashion. His speech was forward looking.
The speech centered on America and its people. Namely, as America not a land defined by its government or its politicians but by its people. This insight is important to keep in mind when looking to solve our nation's problems.
In the global economy, America must find a way to keep its workforce competitive. America's education equality has been lacking in the last few decades, and education equality is a large factor towards equality of opportunity, a tenant of the American Dream.
Rubio did an excellent job encouraging the pursuit of higher education. He mentioned the need increase people pursuing technical certifications and not just liberal arts degrees. He also addressed the growing problem of student debt.
His speech focused on turning the Republican party into the party of America. He sees the value in being a party that represents the basic principles of hardworking Americans. The Republican party holds the basic values that represent America, but it lacks a spokesperson that communicates effectively the Party's ideals.
Rubio may be the new face of the Republican party. His calm optimistic demeanor is disarming. He doesn't speak ill of people but of policies. His ability to understand the plight of many Americans is refreshing to a party that ran a presidential candidate from the highest echelon of society who lacked a personal touch that connected him with the middle class.
Unfortunately, the "who would you rather have a beer with" test is not the only test to becoming president. Rubio must prove himself as a leader in the political realm. Speeches are great and sometimes heartwarming; however, a president needs more than speeches to be great. President Obama has discovered this first-hand, and it is his lack of political tact that will rank him as one of the most ineffective presidents in American history.
Rubio does not need to serve as a governor to prove his political prowess. The best advice would be to champion marquee legislation that shows political fortitude. America needs a president that can accomplish tasks in any environment. As a U.S. Senator, Rubio is the best position at the federal level to push legislation that has potential to change the current course of American policy.
Paul's speech had a very different tone than Rubio's. Paul was on the offense. He took the leisure to mention Obama at every opportunity. The speech was less about ideals more about the nitty-gritty.
His first point was about the drone strikes against American citizens, and the indefinite detention of American citizens. Obama claims he would never use the indefinite detention or drone strikes on American soil. Obama, who claimed that he stood for civil liberties, has shown himself to be no different than presidents in the past.
Paul made many good points against eroding civil liberties. The strongest point is that the Constitution protects civil liberties and they are never to be infringed.
Paul delivers his speeches much like his father, Ron Paul. His steady delivery presents novel facts in a tone that seems surprised at every turn. He speaks as if he cannot fathom the reasoning behind opponents' decisions. This is effective at winning over a favorable crowd, but its effectiveness in more neutral territory may not be as great.
Paul points the Republican party to go back to being the true defender of the Constitution. In his words, "There is nothing conservative about bailing out banks."
Lower corporate taxes, flat personal income taxes, cutting regulations, and slashing spending are his solutions to the budget problems. The difference between his proposals and traditional Republicans is that his are much more drastic.
Paul speaks to the younger generations of Republicans. Not surprisingly, this means focusing on ending the drug war and cutting the deficit. He says little to address the social issues being debated.
Paul will face the same problems as Rubio if he decides to run for president. He must accomplish something. Great speeches will not be enough to win a presidential nomination.
The CPAC presidential straw poll reflected a crowd unsure which path to take. Paul placed first at 25% followed by Rubio at 23%. The remaining 52% voted for other candidates or were undecided. This poll shows a Republican Party at a turning point. They will either return to the 'safe bet' with Rubio, or they will pursue 'real reform' with Paul.
Rubio is the 'safe bet' because he is no different than the Republicans before him. Paul is the 'real reform' because his solutions would change the course of the America more than any event since FDR's New Deal. The Republican Party should understand both of these politicians have a future in the party. For the Republican Party to be successful, they must be the party of Rubios and Rands. Both of these camps arenecessary for victory, and in the end, this could be the large tent the Republicans have been looking to build.