Scholars: Empty Rhetoric Will Not Solve Israeli-Palestinian Conflict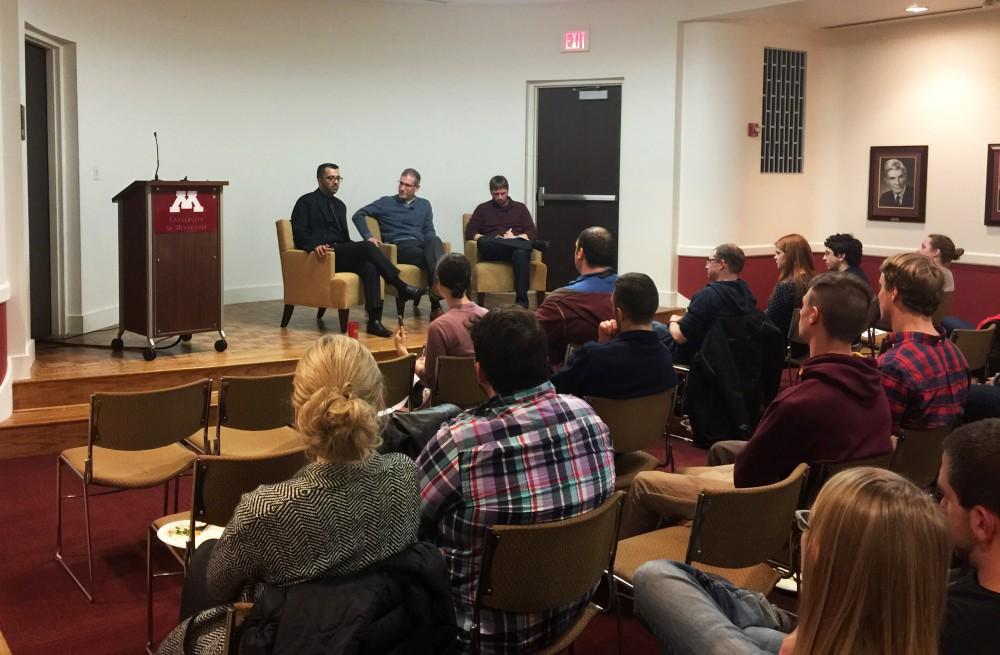 More than 50 students of diverse backgrounds listened as an Israeli law professor and a Palestinian economic scholar engaged in a moderated discussion at the UMN's Coffman Memorial Union last night.
Professor Oren Gross of the UMN's Law School was born and raised in Israel; Gross' counterpart, Walid Issa, was born in a Palestinian refugee camp. Despite their differences, Gross and Issa remained calm and respectful of each other's thoughts and opinions during the discussion, which was moderated by Methodist Reverend J. Cody Nielson. The Minnesota Hillel, a center for Jewish student life on campus, hosted the event.
The Minnesota Student Association, which serves as the student government on campus, recently received a proposal to pass the Boycott Divestment and Sanctions (BDS) campaign at UMN. Because BDS has been interpreted as anti-Semitic in nature, Minnesota Hillel organized the moderated discussion in an effort to facilitate respectful discourse on campus.
The discussion began with both Gross and Issa explaining their upbringings and difficult experiences with the Israeli-Palestinian Conflict. Next, Reverend Nielson asked Gross and Issa a series of questions pertaining to the Conflict and what each speaker thought should be done about it. The event concluded after Gross and Issa answered questions from audience members.
Both Gross and Issa stressed the importance of education in working to resolve the problems in Israel and Palestine.
"Education is the key. Children are the key," Gross said.
Gross elaborated that when children are taught to hate, they will grow up with only hate in their hearts. Conversely, children who learn to love life will not desire to spend their lives at war.
Issa agreed with Gross' claim in his own response.
"I am very concerned about the young people and the kids," Issa said.
On the topic of concerns and young people, Nielson made sure to ask Issa and Gross their thoughts on BDS.
"I strongly believe that BDS goes against the grain of everything we said [about how to resolve the conflict] so far," Gross said. Gross added that BDS is not inherently anti-Semitic, but that some people advocating for it either intentionally or unintentionally cross the line towards anti-Semitism.
Gross added that, "We cannot afford to say that the situation [in Israel and Palestine] is not solvable."
Gross and Issa acknowledged that solving the conflict was seemingly impossible to students at the University of Minnesota, but both men also acknowledged that the student body in Minneapolis can do a lot on their own to help out.
"I think there is so much you guys can do," Issa said. Rather than using "empty rhetoric" and taking an uninformed stance or simply passing or not passing a campaign, "[Students] need to rethink what [they] are doing…sit together and talk about how we can be effective," he added.
"I would've given the same answer," Gross agreed. "Know what it is that you're talking about. Come and visit! Learn! Take a trip. See what it is!"
Gross and Issa wanted students at the talk to spread the importance of awareness to the UMN's campus. Rather than simply picking a side, students should make connections with new people who each have humanity and a story; use these connections to think diversely and form educated opinions.
"Meet, talk, and see what the other [side] has to say. That's your obligation," Gross said.