State Auditor Otto Fights New Auditing Reform Law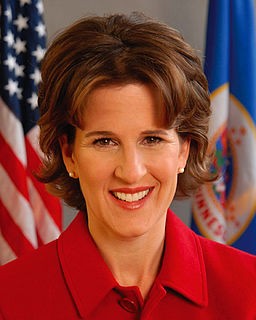 At the end of the 2015 Minnesota legislative session, a bill was passed that included language allowing all counties to get their required annual audits done by a private certified public accountant (CPA), rather than the previously mandated State Auditor's Office, starting in 2016. Prior to this reform, some counties were required to the State Auditor Rebecca Otto's audits, while other counties including Hennepin County where Minneapolis is situated, could go to whomever they chose. Many of the other counties that were previously restricted had been requesting the reform to state law because private audits quicker and cheaper using the State Auditor's audits.
In an interview on the Up and AtEm morning radio show, State Representative Nick Zerwas said Otto testified against the reform. He claimed that Governor Mark Dayton would veto the bill. Zerwas then said that the hearing was paused to check with the Governor's Office, who stated he would not veto the bill with the auditing reform in it. Governor Dayton held that promise by signing the bill on May 23.
In an attempt to raise support to force the legislature to change the bill in the June special session, Otto went to Twitter, arguing that private audits remove any oversight of taxpayer dollars. Additionally, she said that the Republicans gutted her Constitutional office. Dayton went as far as to call the reform a massacre of the office, even though he was the one who signed it into law. Ultimately, Dayton backed down from trying to get the legislature to repeal the law, and the session concluded with the reform in place.
Otto, by contrast, has not given up fighting the new law. At the beginning of August, counties that will be freed from the requirement in 2016 started receiving requests to sign three-year auditing contracts with the State Auditor. The contracts would lock down the counties into working with the State Auditor, meaning that they could not exercise the new freedom to look to private firms. In an interview with MPR, Julie Ring, the executive director of the Association of Minnesota Counties, said that even the counties that plan on continuing to work with the State Auditor are worried about making a three-year contract.
On August 25, an AP report found that Otto had paid $21,000 in fees for 66 hours of work to a retained private law firm to help advise her on ways to fight the reform. Otto said she is still considering suing over the issue, but the law firm is helping her assess the impact. In response to the news, State Representative Sarah Anderson asked why Otto was spending money if she was worried about losing money from counties not using her office for their audits.
Governor Dayton and State Auditor Otto have vowed to renew the issue at the beginning of the next legislative session next year.