Black Lives Matter At Minnesota State Fair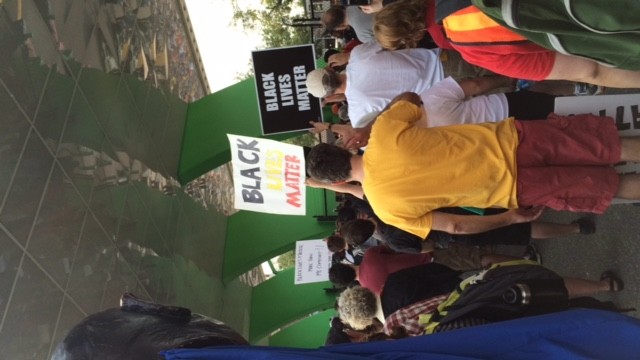 The activist group Black Lives Matter took aim at the Minnesota State Fair today, the first time in the fair's history that it has been the target of a protest.
The group was protesting the recent string of shootings of African American youth by the police. Police also protected the outside of the protest and made sure that none of these protesters were hurt by the crowds of fairgoers that lined the way to their protest spot at the front entrance of the fair grounds. Despite the claims of protesters that they wouldn't be silenced it was difficult to find someone who actually believed that they shouldn't be allowed to protest in front of the fair.
"I'm not sure how I feel about it being disruptive," said Deena, a bystander who declined to give her last name, "But they certainly are allowed their First Amendment right."
Additionally, both the Republican and Democratic delegations at the fair were supportive of the right of Black Lives Matter to protest. They did question whether the disruption of the state fair was the right way in which to gain publicity, especially as the state fair had offered them a booth at the fair.
A member of the DFL African American Caucus stated that while he did support the protest he equally understood why people were perhaps upset about the disruption. He felt it was prudent to point out though, "That the traditional ways of protesting and gaining attention for the hardships of African Americans seemed to be failing to garner the necessary attention that the problem deserves."
Fairgoers had some concerns about whether the protest would become perhaps violent. While some of the demands that Black Lives Matter made are reasonable, such as police officers being equipped with body cameras, there are concerns to be drawn from the protesters' use of such derogatory rhetoric as "Pigs in a Blanket, Fry 'Em Like Bacon."
"Systemic racism is a problem, but I'm concerned about the militant nature of the protest," said a fairgoer who withheld his name.
At no point did the protestors or counterprotesters became violent, even with such rhetoric being displayed. Bystanders however remain understandably concerned about the possibility of violence being committed by the group or in the name of the group in the future.