Belle Plaine's Controverial Memorial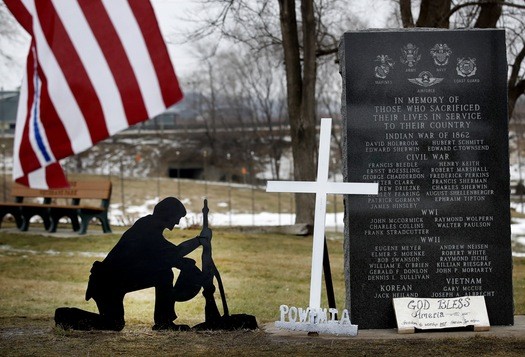 Recently, a constitutional debacle has arisen in the small town of Belle Plaine, Minnesota, a suburb an hour southwest of Minneapolis. Near the town's center lies Veteran's Park, a massive memorial for the locals lives in various historical conflict, complete with raised flags for every individual. An effigy within the park, which depicts the silhouette of an armed soldier kneeling before a cross, was installed last year and has since stood unopposed alongside a large stone tablet marked with the names the local lives memorialized in the park.
Declaring this public display of religiosity unconstitutional, the Midwest-based Freedom from Religion Foundation sent a letter to town officials demanding the removal of the cross portion of the figure. It was subsequently removed. Soon after, recreations of the silhouette began popping up all around town. Many home owners have decorated their lawns with the figure, and local businesses have erected their own patriotic and religious symbols. Additionally, many more crosses have appeared in Veteran's Park, and flag-waving activists can be seen defending these new installations.
This is not the the first religious symbol in Belle Plaine to fall the under scrutiny of this secular watchdog group. For years, locals have erected a sizeable recreation of the nativity, utilizing life-size wooden figures, alongside the police station. Last year, however, this tradition came to an end, when the group placed a controversial banner near the scene. It read, "At this season of the Winter Solstice, let reason prevail. There are no Gods, no devils, no angels, no heaven or hell. There is only our natural world. Religion is but a myth & superstition that hardens hearts & enslaves minds." This sign was quickly stolen, returned, and stolen again almost immediately afterwards. Though the public reaction was generally supportive of the display remaining in its traditional location, this holiday season saw the movement of the scene to a private location nearby.
Incidents of this nature are not, of course, exclusive to Belle Plaine. All around the country, secular individuals, as well as staunch supporters of the first amendment, have challenged the legitimacy of public religious displays. Most notably, this was seen in the 2005 Supreme Court case Van Orden v. Perry, which declared that a display of the Ten Commandments on the grounds of the Texas State Capitol did not violate the establishment clause of the first amendment. Regardless, many contend that a display of this kind necessarily places the honored religion on a pedestal, therefore giving public validation to one particular faith. Perhaps an even more problematic comes with a seemed preference for a particular belief system that comes with monuments of this kind.
The primary argument in support of secularizing Belle Plaine's veteran memorial is not necessarily constitutional. As Annie Gaylor, co-president of the Freedom from Religion Foundation, wrote in her statement regarding the aforementioned cross removal, "We have no objection to veteran's memorials. We just think they should be inclusive… There are many, many 'atheists in foxholes' and any government-hosted or owned veterans display should honor all veterans, not just Christian vets." This debate over this particular incident and others will continue, and likely intensify, in coming years.