Alex Epstein Discusses the Morality of Fossil Fuels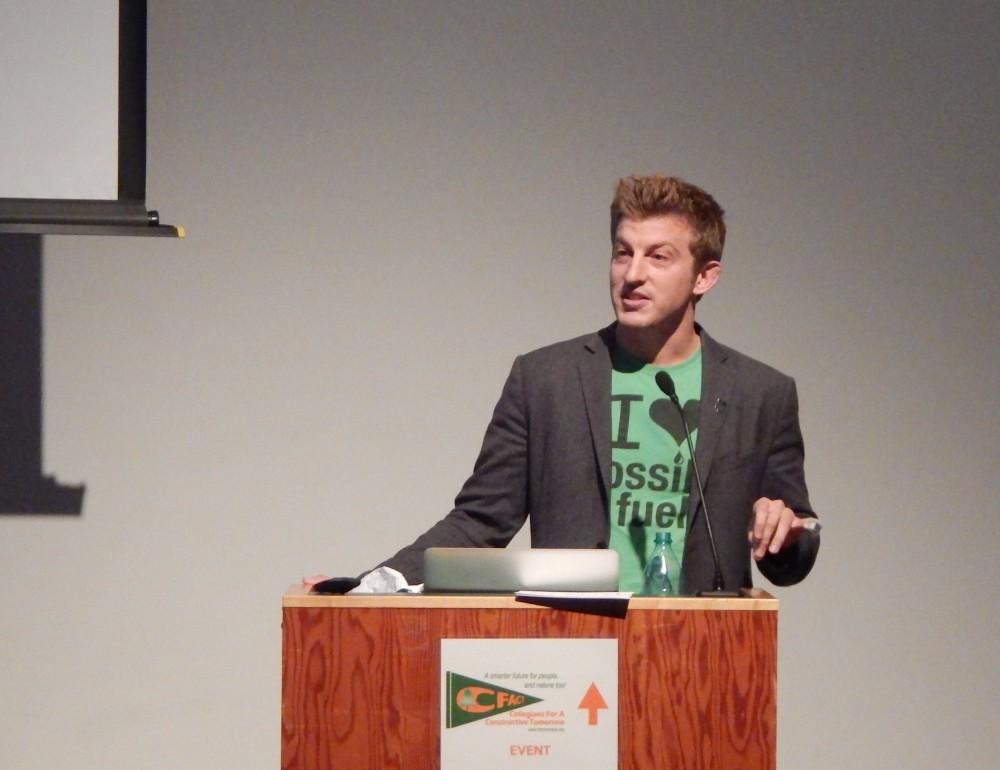 From the President to the Pope, everyone has been claiming that humanity has a moral responsibility to end climate change by stopping the use of fossil fuels. Alex Epstein would beg to differ.
Sporting his "I heart fossil fuels" t-shirt, the New York Times Bestselling author addressed a crowd of about 25 in the Weisman Art Museum on the moral case for the use of fossil fuels. His speech was the final event of "Conservative Awareness Week" on campus. Brought to campus by Collegians for a Constructive Tomorrow (CFACT) and Young Americans for Liberty (YAL) to share his differing viewpoint, Epstein's main focus was the argument – or lack thereof – on climate change and alternative energy.
"At no point did I hear one positive thing about fossil fuels," said Epstein, reflecting on his own education, "And at the same time, I never heard one negative about solar or wind power, both of which are unreliable."
Seeing a lack of an objective picture for any logical argument, Epstein went on to do his own research and craft his own argument. He questioned many members of the Green movement on what their goals were. They claimed they wanted to cut CO2 emissions, but when digging deeper, Epstein found that they actually wanted to uphold nature; they would not support nuclear or hydroelectricity because they were "unnatural."
With no help from the source, Epstein broke it down to his own moral philosophy, "If the positive benefits for humans outweigh the costs, it is moral."
Epstein listed numerous examples of benefits from fossil fuels, including efficiency and a higher standard of living. Not to mention changing the climate of one's home during Minnesota winters.
True to his original argument, Epstein also dove into the possible costs of using fossil fuels by looking at the Greenhouse Effect. Previous models depict the Greenhouse Effect exponentially rising, but current models show CO2 leveling off logarithmically.
"There is such a thing in life as something not being that consequential," stated Epstein.
His main question came down to this: Is the use of fossil fuels making the climate more dangerous for humans? Epstein argued that we already live in a dangerous climate – just go outside on 30 below night.
"Using fossil fuels doesn't take a safe climate and make it dangerous," he said, "It takes a dangerous climate and makes it safer."
With world leaders looking to cut fossil fuel usage by 80 percent, Epstein warns, "We shouldn't fear running out of fuel, we should fear running out of freedom."