Sasse, Santorum, and Johnson Speak on Conservatism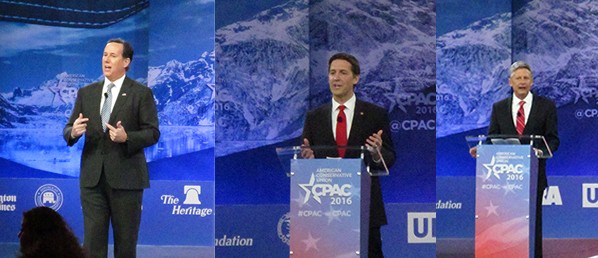 Nebraska Senator Ben Sasse, Libertarian Presidential candidate Gary Johnson, and former presidential candidate Rick Santorum took the CPAC stage to discuss three different approaches to conservatism.
Emcee Paul Teller, Chief of Staff to Ted Cruz, led and introduced each branch of conservatism: classical, populist, and libertarian.
Representing classical conservatism was Senator Ben Sasse. Sasse stated that all three forms of conservatism have three key ideals: Republicanism, Conservatism, and the American Ideal.
"It is important how we rank the order. I am an American first, a conservative second, and a Republican third."
According to Sasse, the American Ideal weakened under President Obama. "This president has decided to attack American exceptionalism and history."
President Obama refuses to support the American Ideal and the outstanding founding of the United States.
Classical conservatism enforces the idea that America's founding is the greatest event in human history. Our founders changed the game. "The government's rights are limited. The people's rights are limitless."
Classical conservatism also believes in Constitutional strength. "We live in a time of Constitutional crisis. We live in a time where college students cry out for safe spaces to protect them from other people's opinion. The democrats have gone post constitutional. We should invite them back."
Santorum represented populist conservatism. He feels that conservatives have left behind the wants and needs of the people. "We aren't feeling the love, because we aren't giving much."
Santorum argued that the conservative movement only solidifies around areas that have little effect on the broader population. "Ninety percent of Americans don't own businesses."
Beyond business, Santorum believes that solidifying the American family is the first step to healing America. "We have to strengthen and preserve the American family. Our candidates don't even talk about it."
Gary Johnson represented the Libertarian Party, both on this panel and on the ticket this coming November.
Johnson and Libertarian conservatism strongly believe in small government. "Democrats and Republicans are both responsible for this unsustainable debt."
As a strong proponent of tax reform and abolishing the IRS, Johnson stated, "Money is freedom. When the government takes my money, they take my freedom."
While there were distinct differences in each of the speaker's ideals, emcee Paul Teller stated, "The great bulk of our priorities are in line."