Biden tells Russia to Stand Down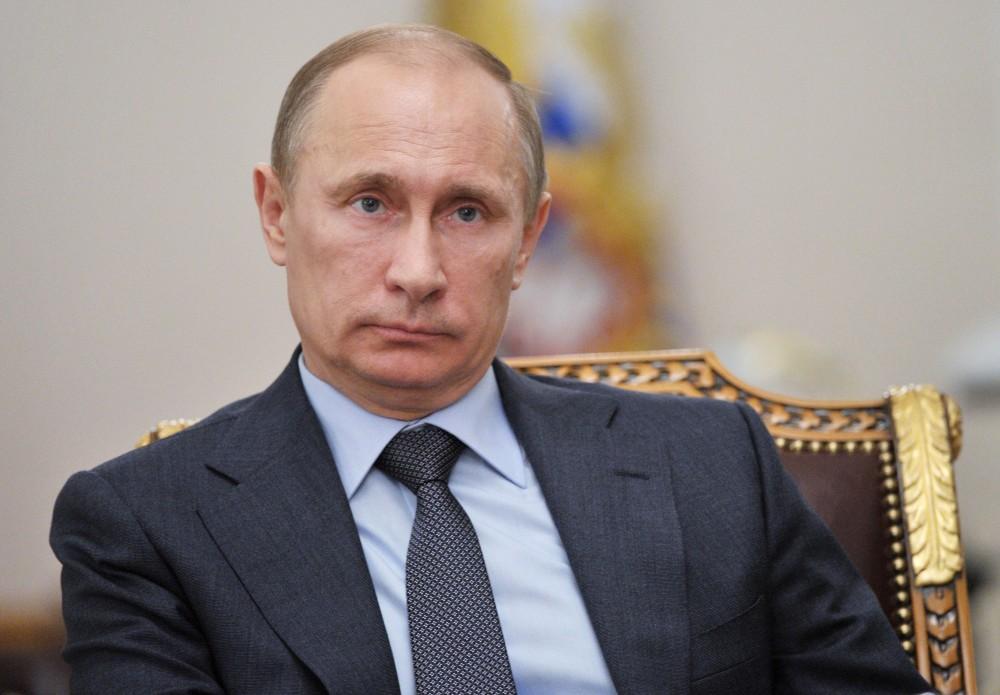 On April 22, Vice President Joe Biden traveled to Ukraine to meet with Ukrainian Prime Minister Arseniy Yatsenyuk to see whether or not Russia is abiding by the terms of the pact they signed the previous week in Geneva. Under the agreement, Russia said it would remove pro-Russian troops from government buildings that have been seized in eastern Ukraine. But as of the vice president's visit, Russia had not done so.
"It is time for Russia to stop talking and start acting—act on the commitments they made. We need to see these kinds of concrete steps," Vice President Biden said in Kiev. He called on Moscow to urge the pro-Russian separatists to leave the buildings they are occupying in eastern Ukraine, and to abandon checkpoints. Prime Minister Yatsenyuk accused Russia of behaving "as gangsters in the modern century."
From the time between the signing of the agreement and the vice president's visit, three men were shot and killed during a raid on a checkpoint manned by pro-Russian separatists. The local separatists said the attack was carried out by ultra-nationalist Right Sector militants, but Ukraine called it a "provocation" staged by Russian special forces. Moscow denies being behind the seizures of buildings. However, Ukraine has released photos, which have been distributed by the US State Department, that show Russian soldiers among militants holding official buildings in eastern Ukraine.
The US is planning further sanctions should Russia fail to fulfill its Geneva commitments. Russian Prime Minister Dmitry Medvedev told the Russian parliament on Tuesday that Russia would be able to "minimize the consequences" of any further sanctions.
While the notion of annexing Crimea is not a new one, Russian forces of today are a far cry from those seen in 2000 when artillery, airstrikes and surface-to-surface missiles were used to retake Grozny, the capital of Chechnya.
"It is much more sophisticated, and it reflects the evolution of the Russian military and of Russian training and thinking about operations and strategy over the years," said Stephen J. Blank, a former expert on the Russian military at the United States Army War College who is a senior fellow at the American Foreign Policy Council.
According to the latest Rasmussen polls, 58 percent of Americans say the United States should leave the Ukraine situation alone. While I agree that we should not use our military in this situation, I do not think that we can simply leave the situation alone. Russia is an empowered force using all types of warfare at their disposal. This campaign into Ukraine goes well beyond "boots on the ground" to include cyberwarfare, special operations and a modern propaganda campaign.
Putin is in complete control of this situation and I think when it comes to fighting an emboldened and well-equipped enemy, one needs a little more than words and simple rhetoric. It will be interesting to see what the next batch of sanctions from the U.S. will contain. Russia's economy is barely growing, and with capital pouring out of the country into the conflict in the Ukraine, any serious sanction would inflict severe economic costs.
In February Russia's gross domestic product experienced growth of just 0.3 percent year-on-year, up from a revised 0.1 percent in January, said Russia's Deputy Economy Minister Andrei Klepach. The World Bank warned in late March that Russia's economy could contract by 1.8 percent this year if the Ukraine crisis drags on.
On the flip side, as Russia's economic growth grinds to a near halt, inflation is shooting up. Inflation is around 7 percent and the ruble has fallen 11 percent against the dollar. Russian stocks have tumbled nearly 14 percent this year. Any serious sanctions would drive Russia right into a recession.
However, Russia is not entirely helpless. It could fight back by shutting off gas exports to Europe, which relies on Russia for about a third of its energy needs. If that happens, the entire world could feel the pain. But it would also hurt Russia, which receives more than 50 percent of its revenues from energy exports.