Chocolate Chip Cookiepalooza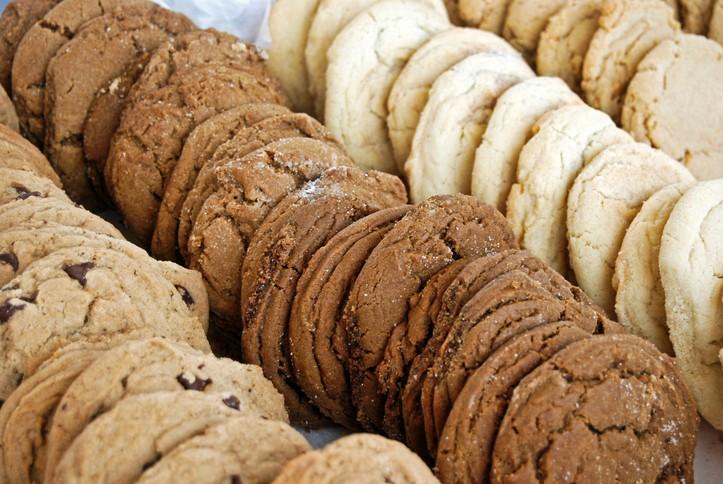 Traditional Chocolate Chip Cookies
These cookies are guaranteed to satisfy. They are your traditional ooey-gooey chocolatey goodness wrapped in a lightly browned crispy outside. Orgasmic. Even better, the dough is so, so good raw (the MNR does not advise eating raw cookie dough) … gawwddd does it get any better than this?
Ingredients:
1 C. (two sticks) butter
1 C. white sugar
1 C. packed brown sugar
2 eggs
2 tsp. vanilla extract
3 C. all-purpose flour
1 tsp. baking soda
½ tsp. salt
2 C. semisweet chocolate chips
1 C. chopped walnuts (optional)
Directions:
Preheat oven to 350 degrees F (not that Celsius crap). Cream the butter and sugars together until smooth. Add eggs (one at a time) and vanilla. In a separate bowl, combine flour, baking soda, and salt and stir together until fully combined. Add flour mixture to butter and sugar mixture in increments until fully incorporated. Stir in chocolate chips and nuts(optional). Drop by rounded spoonfuls onto ungreased cookie sheets. Leave about 2 inches between cookies so that they do not stick together. Bake for about 10 minutes or until edges are browned.
3-Ingredient Breakfast Chocolate Chip Cookies
If you can't stop eating cookies and are too lazy to make breakfast every morning, these cookies are for you (and me too). These work to satisfy your cookie cravings while still being at least decently healthy. They are also ridiculously easy to make (these are for you, fellow dorm-dwellers).
Ingredients:
4 ripe bananas (mashed)
2 C. uncooked quick oats
1/2 C. chocolate chips (add more if desired)
Directions:
Preheat oven to 350 degrees F. In a large bowl, combine the mashed bananas and oats. Fold in chocolate chips. Drop by rounded spoonfuls onto greased cookie sheets. Bake for 15-20 minutes. Makes about 32 cookies.
Healthy Chocolate Chip Cookies
Being healthy is hard, but it shouldn't include swearing off cookies forever. If you can resist piling sticks of butter into your chocolate chip cookie recipe (I can't), then you will love this much healthier option, even if it's not quite the same as the original. These cookies are good in their own, healthy way.
Ingredients:
1 1/2C.oats
2tsp.vanilla extract
1largeegg
4Tbsp.dark brown sugar
1/2C. coconut oil
1/2tsp. baking soda
1tsp.cinnamon
¼ tsp. salt
1/2C.dark chocolate chips (these are healthy, duh)
coarse sea salt (optional)
Directions:
Blend oats until they resemble flour in a blender or food processor. Combine the vanilla extract, large egg, and brown sugar in a bowl. Melt the coconut oil and let it cool slightly before adding to the bowl. Beat everything together until just combined. Stir in the oat flour (measure after blending, not before), baking soda, cinnamon, and salt. Stir until just combined and then fold in the dark chocolate chips. Chill the dough for at least one hour.
Preheat the oven to 350 degrees F. Scoop spoonfuls of cookie dough and press into tight balls, place them onto parchment lined cookie sheets. Press a few more chocolate chips in the tops. Sprinkle on a little sea salt (if desired). Refrigerate for 15 minutes if molding them into balls got them a little melty. Bake for 8-10 minutes or until lightly browned around the edges.
**Being healthy makes them very temperamental, so don't get any ideas about messing around with the ingredients.
Recipe courtesy of Chelsea's Messy Apron