Stangler Wins Close MSA Presidential Election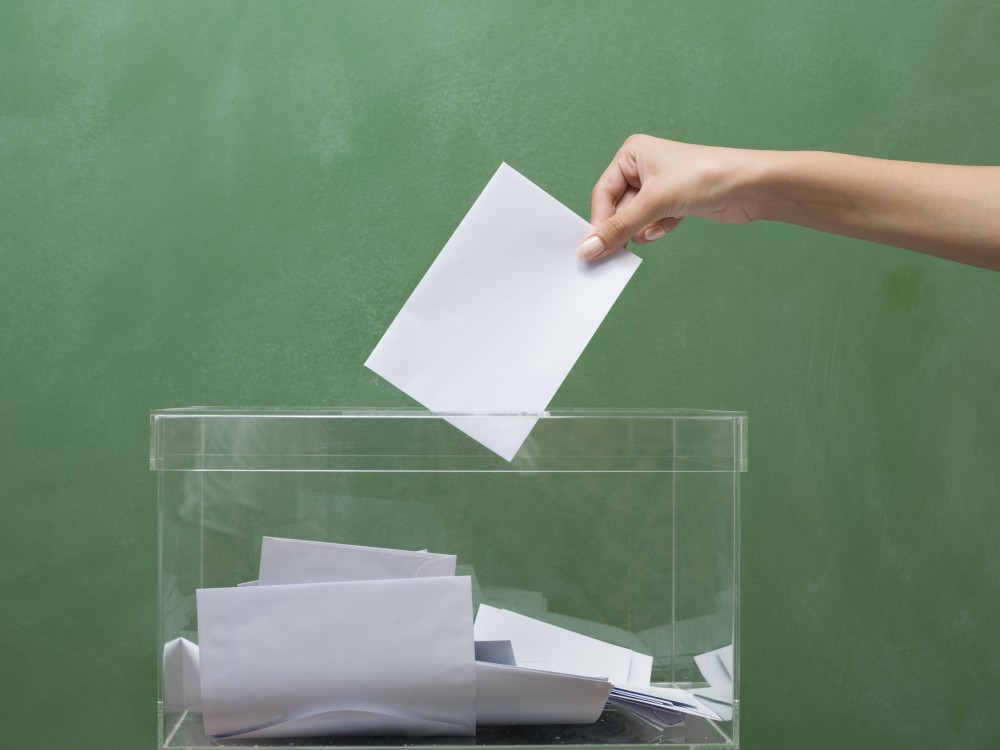 This year's Minnesota Student Association elections were more contentious than any other MSA election in recent memory. This specifically regards the presidential election, as it was a face-off between current MSA President Joelle Stangler and Grant Committee Director Henry Benson. Throughout the three-day voting period, with the help of many stickers, signs, and shirts, both Benson and Stangler's campaigns were very visible on campus. However, by the end of voting on Friday, April 17, Stangler and her running mate Abeer Syedah won with 55.98% of the overall vote. In addition to getting reelected to her current position as president, Joelle also helped to get a slate of more than 40 candidates–whom she endorsed—elected.
When asked about the benefits of having a largely unified MSA, Stangler said, "With a team of over 40 excited individuals behind us, we are confident we will have a successful year."
As for what she, Syedah, and her supporters hope to accomplish, Stangler claimed, "Our main goal is partnering with the various units on campus that specialize in mental health to decrease wait times, improve self-awareness and stress reduction, and create more accessible qualities that don't penalize students for having mental health concerns."
Mental Health was one of the main planks of Benson's campaign, as well, along with reducing the exclusivity amongst MSA members. When asked what role he is looking to play in MSA next year having lost the presidential election, Benson said that while he looks to help in any way possible and potentially serve as an issue adviser to MSA, though he doubts his opinion will be considered due to his running against President Stangler. When the Minnesota Republic asked Benson how he feels regarding the potential power of Joelle Stangler and her slate, he said, "You're going to be able to see what happens when one group's ideas gets pushed to the fullest extent of what they want."
While he did end up losing the presidential race, Benson has something to be proud of. Because of a record-high voter turnout and obtaining 44% of the vote, in any other year, Benson's numbers would have given him the win.
The race came down to two candidates following the dropout of Prahith Chakka a mere two days prior to the beginning of the three day long electronic voting period. Chakka's endorsement of Benson following his withdrawl from the race may may have played a part in the high percentage Benson won.
The closeness of this race was in stark contrast to last year's in which Stangler and current MSA Vicce President John Reichel won a blowout victory.
Aside from her win, Stangler also has something to be quite proud of; she is in the unique position of obtaining a second term as MSA President. This has not happened in recent history due to many presidents either graduating or losing interest in student government.
"I already built the relationships with administration that will allow MSA to be successful," Stangler said, describing the benefits of serving a second term, "We won't need to reinvent the wheel."
Additionally, she mentioned that many of MSA's achievements throughout this year will not simply be lost, as with what would happen with new administration.
Although there are many positive outcomes of Stangler's win, however, a bit of negative light currently surrounds her campaign due to an occurrence near the end of the voting period. On Thursday, April 16, there was an alleged incident where Joelle and Abeer supporters were driving a golf cart around the Washington Avenue Bridge and at one point swerved in a threatening manner toward Cameron Holl—Henry's running mate—and other Benson supporters. Afterwards, one of the Benson volunteers filed an official complaint with the All-Campus Election Commission.