Minneapolis police are failing downtown
October 10, 2019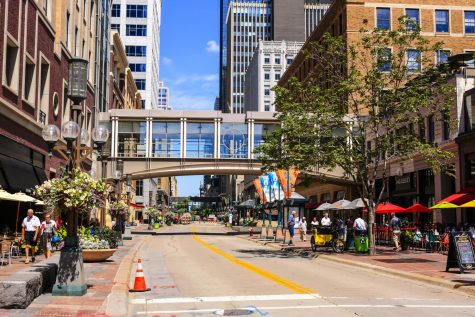 Before I started working at a hotel in downtown Minneapolis, I had little experience wandering around the area. Having to commute daily via the light rail station at Nicollet or the Hawthorne parking ramp near 10th and Hawthorne, I quickly learned what I needed to do to avoid trouble. Despite the supposed "heavy police presence" in these areas and several police precincts no less than 100 yards from danger, downtown Minneapolis feels like one of the most concerning and unsafe places in the city. 
Over the course of August, 48 robberies were committed in the downtown area as reported by WCCO. This dramatic rise was linked to a roving group of young adults operating between Hennepin and 2nd Avenue, a high traffic area many nights of the week. Acting with impunity while the police station was located a block away, the brutal actions of these thugs were captured and displayed on local and national news. 
Despite the police having caught these attackers and understanding how and why they target people in this area of downtown, these attacks highlight a growing concern that the police simply are failing to proactively protect. Violent crimes are up significantly over last year's total, topping 3,330 by October 1st. Chief Maderia Arradondo stated in a July meeting with the city council that Minneapolis police were unable to respond to over 1,200 urgent calls immediately last year, a terrifying statistic. His response, however, was to claim that we needed more police officers, not a change of tactics. 
In reality, the answer lies in the middle. Police numbers per 10,000 people have remained in line with cities of comparable sizes such as Seattle or Denver, hovering around 20 officers. The police chief has asked for 400 new officers, an expensive and politically improbable proposal, but a step in the right direction. Mayor Frey responded in kind by budgeting for a measly 14 new officers, a slap in the face for downtown residents and workers. 
Frey needs to add more officers to maintain a consistent presence in the Warehouse District and Hennepin that is currently lacking. All too often criminals loiter around key intersections and back streets without an eye on them, putting the safety of tourists and partiers at risk. Light rail stations in downtown never have a consistent police presence, causing them to become ground zero for hooliganism and people with nothing better to do coming from Saint Paul or Bloomington. It is clear that staffing is an issue for the department, yet look at what the city places its political emphasis on.
Trump's visit had dominated the headlines leading up to Thursday, October 10th's rally, but for all the wrong reasons. Mayor Frey denounced his visit and had done nothing to quell the tide of anger directed at rally-goers and Trump himself, creating a dangerous standoff in the heart of the crime area. The police department implemented a new rule via city council to prevent police from wearing uniforms at political events a week before Trump's visit, convenient timing. If this is where the priorities lie for city council and the mayor, it is easy to place the blame of the rising crime on them.  
Shootings, robberies, and violent crime are all up in Precinct One from a year ago according to police statistics, including high profile attacks at Crave and Target Field. The anti-cop sentiment, restrictive policing methods, under-staffing, and incompetence all add up quickly. 
The ineptitude of the metro transit police and Minneapolis police downtown combined with the lack of solutions and fixes from Mayor Frey and city council are creating a dangerous environment in downtown. Unless drastic changes are made to allow police to be staffed, trained, and ready to pursue criminals, Minneapolis will continue to make national headlines for the wrong reasons.