Corporate malpractice, rising climate aridity remain problems as California's 2019 wildfire season continues on treacherous trajectory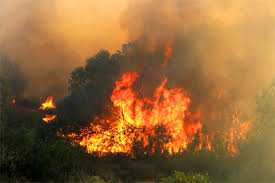 California's 2019 wildfire season is upon us, lasting from mid-September to December, and it looks to be continuing on the destructive trend of the last decade. Dozens of fires of various sizes have already been ignited this season from Los Angeles to the northern border with Oregon. Five of these fires have amassed greater than 10,000 acres of burnt land, and while no people have been killed as a direct result of these fires, 387 buildings have been destroyed across California. The largest of these fires is the Kincade fire just outside of San Jose.
The Kincade fire in California's Sonoma County was contained Nov. 5, but not before major damage had been doled out by the flames. 77,758 acres of California's wine country were torched, destroying 374 structures, of which 174 were residential and 11 were commercial, as reported by CAL FIRE on Nov. 4 at 7 a.m.
The fire was ignited on Oct. 20 at 9:27 p.m., and hurricane force winds recorded upwards of 90 mph fueled the blaze. Governor Gavin Newsome responded by declaring a state of emergency on Oct. 27 after 50,000 acres were burned, calling for the evacuation of approximately 180,000 California residents.
Newsome reported that they had over 3,000 firefighters working to contain the blaze, and although the cause of the fire remains unknown, Pacific Gas & Electric admitted that a part of a transmission tower in the area broke just before the fire began, as reported by NPR.
Responding to this, PG&E cut power to roughly 960,000 buildings on Oct. 27, leaving 3 million customers without power, making it the largest blackout to prevent the spread of wildfires in the history of California.
PG&E is no stranger to creating wildfires, having accidentally manufactured over 1,500 in the past six years in California according to the New York Times. It filed for bankruptcy this year due to an anticipation of $30 billion in damages for sparking the deadliest and most destructive fire in the history of California: The Camp Fire. The result was the death of 85 people and the destruction of over 18,800 structures.
PG&E has faced scrutiny since 2010 when one of its pipelines exploded, killing eight people. An investigation into the company ensued. State regulators found that PG&E collected over $234 million more than it was authorized to collect in oil and gas revenue.
Meanwhile, they spent millions less than they were supposed to on safety and fell short of a majority of industry safety standards, as reported by Business Insider. Californians got the message – PG&E cared far more about their earnings report than the safety of the consumer and the conservation of the state of California.
While PG&E has vast room to improve on its environmental impact, the regularity and increased impact of wildfires in the last 15 years is not entirely PG&E's fault. Proceedings of the National Academy of Sciences (PNAS) released a study in 2016 that correlates an increase in devastating fires to climate change in the region.
PNAS used a five-factor study on climate factors relating to wildfires and found that 75% more forest dried out from 2000-2015 in the western US. This resulted in the fire season being extended by an average of nine days in the same time period.
Nine out of 10 of California's largest fires have occurred since 2003, and the problem is escalating every year. 2018 was the most destructive year on record with an estimated 1,618,033 acres burned, or an area roughly 44 times the size of the city of Minneapolis.
President Trump weighed in on the California fires Nov. 3 on Twitter, threatening to pull federal aid to the state. Trump then continued on his Twitter rant, stating that Newsome has done a terrible job of forest management, reminding him that he suggested to clean the forest floors by raking them. Trump solidified his Twitter stance against the Democratic governor saying that Newsome "Doesn't know what he's doing. He's like a child."
Newsome replied to Trump's tweet, retorting, "You don't believe in climate change. You are excused from this conversation."
"
You don't believe in climate change. You are excused from this conversation"
— California Governor Gavin Newsome in a tweet to Donald Trump
Whether or not Newsome could do anything more to prevent these fires is beside the point; they are decimating California and affecting millions of lives. Federal funding being pulled would be especially detrimental to the state at this time, as the Diablo and Santa Anna winds continue to pick up and increase wildfire risk more and more each day in the state.
California wildfires are not going away any time soon, and they must remain closely monitored by the country as a whole as the season progresses due to the immense economic, social, and environmental impact it can create in an instant.