Electric Vehicles and the Future of the Auto Industry
With climate change and environmentalism increasing from consumer demand and government regulation, the automotive industry is continuing to transition from gas to electric. According to a Bloomberg New Energy Finance report, electric vehicles will account for 58% of global passenger vehicle sales in 2040, and will make up one third of all cars on the road.
The three main electric vehicles markets are the United States, Europe, and China. In 2020, they made up for 6% of cars on European roads, while covering 27% of all new car sales in Germany, Italy, Spain, France, and the UK. EV sales in the US are expected to increase by 70% in 2021.
Tesla remains the world leader in electric vehicle auto-production. Its amazing share price rally since March 2019 has skyrocketed the company's value, as well as made its' CEO, Elon Musk, the world's richest person. 
Musk's company dominates the US market, accounting for 80% of electric vehicles on the road. Their sales are led by the Model 3, which sold over 38,000 units in 2020. The company plans to expand their fleet with new kinds of vehicles, beginning production on semi-trucks in 2021 and the release of the much anticipated Cybertruck in 2022. Some police departments even converted Tesla vehicles for operational use last year.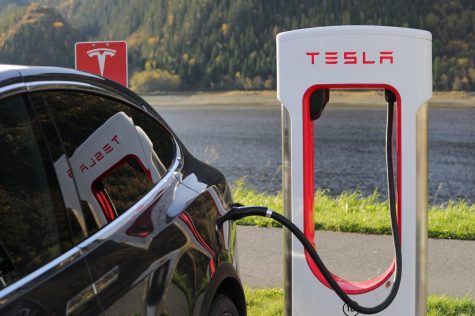 Tesla may have the upper hand in the electric vehicle market right now, but other automotive companies are amping up their electric vehicle development to catch up with the future. While the company holds a 67% share of American electric vehicles today, it is predicted to drop to 21% by 2030.
One Chinese startup is making noise in the electric car market. Nio is a Shanghai based electric vehicle company that aims to be the Tesla of China. The company doubled their deliveries in 2020 to 43,728 vehicles. Its stock recovered from a year low in March at $2.11 and sits around $60.
The Chinese carmaker has made developments to become more competitive with Tesla, launching a bigger battery pack to improve driving range, stronger autopilot, and targeting to reach 500 power swap stations by the end of 2021. These stations are made so people can change the vehicle's battery with an already charged one, rather than waiting to charge the existing one. The company is priming itself to increase its international presence in markets like Europe and the US.
Old brands are trying to keep up with the EV trend. General Motors is revamping its Hummer, a vehicle with a reputation as a gas guzzler in its past form, as an all electric vehicle. The vehicle boasts astaggering 1000 horsepower, 3 second 0-60 mph time, and an impressive build and interior. GMC plans to release the electric supertruck as a 2023 model in 2022.
The Hummer is just one example of American automakers following the EV trend. Detroit's Big-Three plans to invest tens of billions into their electric vehicles. Elon Musk has even entertained the idea of Tesla merging with a major legacy auto manufacturer.
While the US lags further beyond other countries in total electric vehicle use, the new Biden Administration may catalyze a wider adoption of them. According to his campaign website, the President aims to, "Create 1 million new jobs in the American auto industry, domestic auto supply chains, and auto infrastructure, from parts to materials to electric vehicle charging stations, positioning American auto workers and manufacturers to win the 21st century; and invest in U.S. auto workers to ensure their jobs are good jobs with a choice to join a union.
With tighter fleet wide emissions standards and electric vehicle subsidies, the US can see a huge increase in EV's this coming year. With so many young automakers competing with old ones in this new market, it will without a doubt be exciting to see where the industry goes in the coming years.