The world around us: taking a step back to see how covid looks in foreign countries right now
February 26, 2021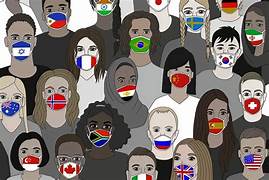 The vaccine – if it hasn't flooded your Facebook posts by now, you can expect to hear it in daily conversation or see signs for it soon at your local drug store. While these thoughts to the vaccine are consistently bombarding our everyday interactions with curiosity and questions about its long term affects, how are things outside of the United States playing out?
Although the United States is currently struggling with having the highest recorded COVID cases and highest recorded COVID death rate (followed by Brazil, India, Mexico, and the United Kingdom), other countries claim to be entirely "COVID-free."
North Korea was the first country to claim to not having COVID cases; however, this is likely very questionable. The country had an initial COVID scare back in July but confirmed that the suspected case of COVID-19 was indeed NOT the coronavirus. Out of strict precautionary measures Kim Jong Un placed the country on complete lockdown in January of 2020. North Korea News even said that the lack of numbers is "worryingly low." With the country's close proximity to China and secrecy, these numbers can only be questioned by outsiders.
The country also expects to have 2 million doses of the AstraZeneca COVID-19 vaccine sent to North Korea by June and will leave their borders closed until the majority of their population is vaccinated. Dr. Park said, "North Korea's frontline healthcare workers and its elderly population will likely be the first to be vaccinated." He added that "North Korea is unlikely to immediately reopen its borders because the number of doses only covers a small portion of the country's population."
"
North Korea's frontline healthcare workers and its elderly population will likely be the first to be vaccinated
— Dr. Kee Park
In the Southern Pacific Australia claims to be going back to "normal." The country has instituted a 3-step plan to ease back into normalcy. Restaurants and schools can be open as we remember them in the pre-pandemic paradise for limited amounts of time each week.
These new changes are exciting for most as they get to welcome back some of the economy that they lost over the pandemic. According to Isabella Kwai, Australian native, over 600,000 Australians lost their jobs back in April, which caused their unemployment rates to skyrocket over six percent.
Despite the eagerness for the return of financial stability in Australia, officer Paul Kelly, Australia's chief medical officer, firmly believes that the country will not be able to return to normal until a nationwide vaccination is successfully distributed.
Some private companies, like many in Europe, have already talked about making the vaccine a requirement before partaking in activities. While German airline Lufthansa does not yet require the vaccine, they have already started saying that it will very likely make the COVID-19 vaccine a travel requirement.
Outside of vaccine requirements, most of Europe still has restaurants and clubs closed. European countries do not have the same massive populations as the United States, but their close proximity to neighbors makes interaction much more difficult to avoid. Because of this, places like Spain require masks to be worn both inside and outside of the home.
As Europe still struggles with COVID, Africa has been productive in fighting off most of the corona virus, which is a huge contrast to their previous reputations of having fragile health care systems. The entire continent only had a recorded 37,000 deaths as of 2020 (roughly only 13 percent of the total COVID deaths in the United States alone).
Why has it been less deadly on this continent than anywhere else? Africa's low tourism, quick action, young population, and typically warm climate all contributed to the decline, according to Anne Soy, Senior Africa correspondent.
Amid this chaos, there is no telling who handled the situation best or all the steps that people need to take to attain both medical perfection and needed human interaction. Will we know exactly what we should have done, the particular route in which the virus spread, or who truly did what they were supposed to across the world in twenty, thirty, forty, or even fifty years? Probably not, but we must look and analyze the world around us in order to try and learn.