Brian Laundrie's Remains: What Comes Next?
After a long manhunt for Brian Laundrie that lasted for weeks, his body was discovered on October 20, 2021. Brian Laundrie was the main suspect for the homicide of his girlfriend, Gabby Petito. Her body was found on September 19 at a campsite near Grand Teton National Park in Wyoming. Brian Laundrie and Gabby Petito were on a Summer-long camping trip together when things started to go South between the two. In the month of August, the two were confronted by police officers in Utah after a domestic dispute. The only thing that came from this was a one night separation to help things cool down between the two. 
After this dispute, Gabby sent out an odd text message to her family that expressed concern for her safety. On September 1, Brian Laundrie returned to his Florida home with his parents, but returned alone. Suspicion was raised because there seemed to be no trace of Gabby, even with her family. Gabby's mother then reported her missing on September 11. As not even a week passed, Brian Laundrie then was reported missing on September 17 by his parents. The mysterious thing about this instance is because his parents said they had not seen him at all since September 14, which was 3 days after Gabby's parents reported her as missing.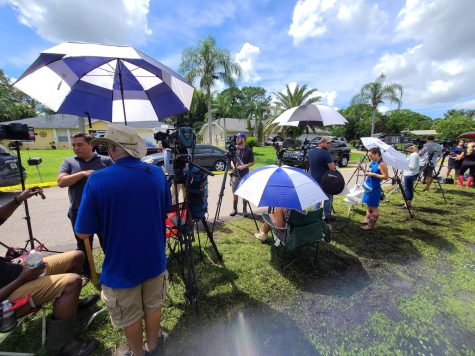 At this time, neither Gabby or Brian had been found, and both were reported as missing. The next day, on September 19, Gabby's body was found in Wyoming by an FBI search team. After they found Gabby's body, the FBI conducted a search warrant at the Laundrie's residence to scrounge up any evidence that would lead to answers to either Gabby's disappearance, or Brian's. This case had by now gained national attention, where the famous Dog the Bounty Hunter stepped into the scene, looking for Brian and any answers to lead to justice for Gabby. 
A couple weeks had passed by, where the FBI conducted more searches in the Laundrie residence to find any more answers to Brian's disappearance. On October 20, human remains were found, along with personal items of Brian Laundrie. This was just hours before Brian's parents started to search for him at Myakkahatchee Creek Environmental Park in Florida. The next day on October 21, the FBI confirmed that the remains found were in fact Brian Laundrie's. They were able to reach this conclusion after matching dental records to the remains found. 
Yahoo news writer, Elisha Fieldstadt reported that the North Port Police Department described the remains as "Skeletal," (Fieldstadt). His autopsy came back as inconclusive for the cause of death. After the autopsy, his body was sent to an anthropologist who will conduct further evaluation. It seems as if Brian Laundrie's body was so disfigured that it will be almost impossible to find a cause of death or any details that could help with the investigation of Gabby Petito's death. After the anthropologist is done with his evaluation, the remains of Brian Laundrie's body will be cremated. 
"
Skeletal"
— North Port Police Department describing Laundrie's remains
Gabby's cause of death was ruled as mangled strangulation. An arrest warrant was placed on Brian Laundrie after Gabby's body was discovered, but Brian was never found by law enforcement before his disappearance. The arrest warrant was placed because Brian Laundrie had used her credit card without the consent of Gabby. Many questions have been raised in the last couple weeks, especially after this case gained national attention. 
At this point in time, it seems as if this case is at a stand still. Brian Laundrie's body was so disfigured that his cause of death still is not concludable. Law enforcement classified Gabby's death as death by strangulation, but could not find further evidence that correlates DNA to strangulation by Brian Laundrie. Without these crucial answers, the Petito family may not get to see the justice that they desire for Gabby. Many questions arise as to how little cooperation the Laundrie family has with law enforcement, and the lack of recognition of domestic abuse by the police officers who pulled over Gabby and Brian in Utah. There is one thing for certain that we can tell: Gabby's death was not accidental, and at some point in time Brian returned alone and without Gabby to his home in Florida.