The once untold story of basketball players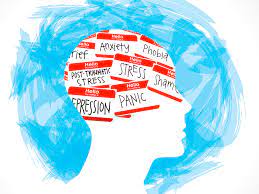 Mental Health has long been an issue in society. While it is a societal issue, chances are you were blind to the potential mental health of the professional athletes we look up to and the ones we are so quick to criticize and lampoon when they make an error on the national stage. Just like us, they are human. Those tears were seen Monday night to show the range of emotion a human can express as Kansas mounted an all-time comeback to cut down the nets in the NCAA Basketball Championship Game against North Carolina. Kansas cried tears of joy while North Carolina cried for what almost was but ultimately fell just short of achieving. These are only a small dose of the true emotions athletes at the top of their field experience. These are the emotions you see, but there is a reality you do not see. A reality that can be must darker. This reality is that of the mental health struggles athletes go through.
Several years ago Kevin Love of the Cleveland Cavaliers went public with the mental health battles he was going through. Love had suffered a panic attack in a game in 2017. Love recalls leaving the court during a timeout and running into the locker room searching for something he could not find. Before he knew it, Love found himself in the trainer's room struggling for a gasp of air as he could not catch his breath. Love recalls that his heart felt like it was jumping out of his chest. For Love, it was a moment when he thought he was going to die. He could not breathe. Anxiety was a lifelong struggle for Love, but his first full-fledged panic attack convinced him it was time he opened up to the sports world and the world at large about the mental health struggles he had been going through. In a sit-down interview with ESPN, Love was asked what it feels like to be the face of mental health in the NBA. Love smiled and said "At first? It was a little scary. I think from suffering from anxiety for a long time and having my first panic attack on November 5th. Not really knowing what that meant to fast-forward to being here now. It's changed my frame of mind and I really do believe in writing my piece that everyone is going through something, so knowing that it doesn't discriminate and knowing that I'm trying to change the stigma. Not only for people in sports but all over."
Love may be the face of mental health in the NBA, but he is far from the only one in the NBA going through mental health-related issues. Another NBA star who opened up around that same time as Love was DeMar DeRozan who was a member of the San Antonio Spurs during that time. DeRozan suffers from clinical depression and, like Love, knew he had to speak publicly about it. For DeRozan, it only took a seven-word tweet to go public to hundreds of thousands of followers about the struggles he's faced. On February 17, 2018, DeRozan tweeted "This depression get the best of me…."
Shortly after Love and DeRozan opened up publicly about their mental health struggles, the NBA decided it was time to make a change to help all of their athletes who struggle with mental health-related issues. The NBA added a new rule that NBA teams are required to have a full-time licensed mental health professional on their team staff to be a resource to each team's players.
Since they went public, Love and DeRozan have helped other NBA stars open up about their struggles. Robert Covington, who was playing for the Minnesota Timberwolves at the time, found himself isolated after a knee injury sidelined him for a career-high 44 games. Depression became a reality for Covington during this confusing and isolated time. Covington had forgotten what it was like to enjoy basketball and describes how close he was at that time to leaving basketball. It was then-coach of the Timberwolves Ryan Saunders who was there for Covington this time that helped him get the help he needed. Saunders had lost his father Flip a couple of years prior and during his period of grief, Saunders began seeing a therapist, which really helped him. Because of that moment, Covington began seeing professional health for his mental health struggles during that time. The professional help was just what Covington needed.
While the world continues to deal with a rise in mental health issues, hopefully, people can be encouraged by the work players like Love, DeRozan, and Covington have done to help end the stigma.
Leave a Comment