Gubernatorial Election Update
Election season is heating up in the state of Minnesota. There are some key elections in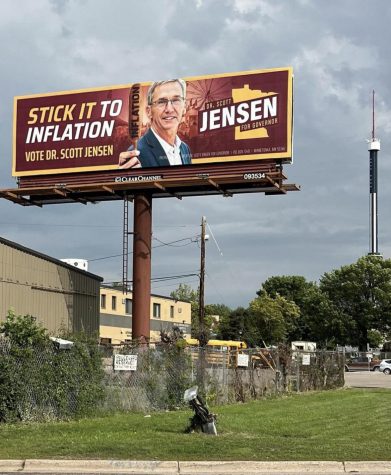 the state including Governor, Secretary of State, and Attorney general.
The largest race in the state this election cycle is the Gubernatorial. The Gubernatorial race is incumbent Tim Walz (Democrat) facing off with Dr. Scott Jensen (Republican). 
In the past month, polls have been fluctuating significantly. A poll from Survey USA conducted on August 30th had Walz up 18 percentage points on Jensen (51%-33%). In a more recent poll conducted by Mason-Dixon Polling & Strategy, the 18-point lead had shrunk to 7 percentage points. The most recent poll conducted by the Trafalgar group (partisan pollster for the Republican party) had Walz's lead shrink to only 3 percentage points (48%-45%). All The polls were obtained via Five-Thirty-Eight
With the race heating up both candidates have increased their advertisements. Political advertisements from both parties have increased immensely in the past weeks. It is the time in the election year when almost every commercial break will include a political ad. 
When asked about seeing advertisements for the governor's election Freshman Keegan McDevitt responded "
"
One thing I have noticed is I have been seeing many billboards for Jensen around the outer parts of the Twin Cities and online I have been seeing an overwhelming amount of ads for Walz
— Keegan McDevitt
Earlier in the month, both candidates were campaigning at the state fair. The most notable advertisement was a plane flying around the state fair that said "Walz Failed Time for Change". 
The candidates have opposing views on their platform and the direction that Minnesota is headed. Walz looks back on his past success while, on the other side, Jensen looks for how he could change the state in the future. 
Incumbent Tim Walz's platform:
Cutting taxes and moving Minnesota's economy forward for everyone (Economy)

Providing historic investments in students and families




(Education and Equal Opportunity)

Fighting to ensure all Minnesotans feel safe in their communities




(Police Reform and Public Safety)

Protecting Reproductive health, including access to legal and safe abortions (Abortion Rights)

Decreasing costs and increasing access to affordable health care (Healthcare)

Saving lives and ensuring Minnesota's economy could rebound quickly (Covid-19)

Taking urgent action to tackle climate change (Environment)
Dr. Scott Jensen's Platform
We Must Address Minnesota's Crime Epidemic (Public Safety)

It's Time to get Serious about Inflation and the Economy. (Economy)

We're Over-Taxed and the Results don't Show. That will Change. (Economy)

Fund Kids, not Broken Institutions. (Education)

Keep our Classrooms Open. Protect our Children's future. (Education

Never Let Lockdowns Happen Again. (Covid-19)

We Need Affordable Medicine in our Lives. (Healthcare)

Affordable Healthcare Means Having a Competitive Market. (Healthcare)

Life is Sacred. Support Minnesota Families. (Abortion)

The 2nd Amendment is to be Protected. (Gun Rights)

Make Decisions Based on Science and Transparent Data. (Covid)

Restore Election Integrity. (Election)

It's Time to Take the Next Step with Cannabis/Reform. (Healthcare) 
Both candidates have different perspectives on various issues such as Covid and the economy. There are a few similar thoughts however in the healthcare sector where both candidates have said their desire to make medications affordable.
With less than two months left in the election, there are many key dates to look forward to. There are two debates that both candidates are invited to. The first debate is scheduled for October 18th and is hosted by KTTC/Gray television. The last debate is scheduled for October 28th and is hosted by Minnesota Public Radio.
Election day this year is Tuesday, November 8th. The polls open at 7 a.m. and will close at 8 p.m. Voter registration is available and check if you are able to vote and where your poll is based on your current place of residence. In addition, the University offers resources to make registration to vote easier and clear.