Charlie Puth Finds His Voice On "CHARLIE"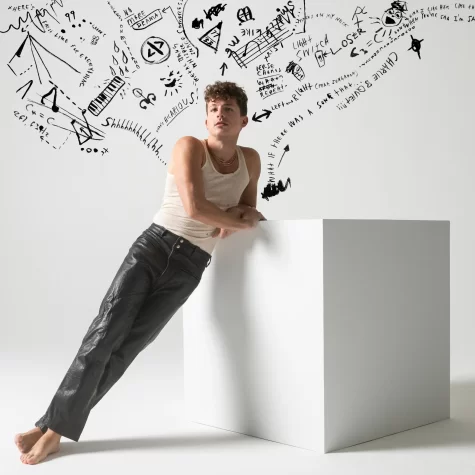 With his new album CHARLIE, Charlie Puth opens up about his experiences in the social-media driven dating world as a millenial man. It's his first album in four years, since 2018's Grammy-nominated Voicenotes and a lot's happened since then – I'm looking at you, quarantine. With this, Charlie had a lot of time to reflect on the music he'd been making and decide what he wanted to do as an artist moving forward. 
He released a couple singles in 2019 and 2020 that were met with generally negative reviews from critics and less than stellar commercial performances. In a recent interview with Ellen Degeneres (who discovered Charlie on Youtube and signed him to her now-defunct eleveneleven label in 2011,) Charlie says it was around the time of those singles that he had a run-in with pop icon Elton John, who told Charlie that the music he was making was terrible. Charlie couldn't disagree and reasoned it was due to a lack of honesty in his music. 
Now, Charlie has bounced back with what is undoubtedly his most honest, most Charlie work yet. Here are a couple of the highlights of each track:
"That's Hilarious" – Charlie laughs at an ex's futile attempts to rekindle their relationship when she realizes she's messed up. On this vengeful break up song Charlie showcases an impressive ability to jump between minimal production and high energy synths. This contrast is further explored and exaggerated in the following song.
"Charlie Be Quiet!" – In this clear stand-out song, Charlie questions the definition of masculinity in a modern relationship's development. He presents the difficulties of opening up as a millennial male, insisting to himself that he keeps his true feelings hidden for fear of his love interest pushing him away upon finding out he truly cares for her. He explores this all-too-familiar dilemma over top of contrasting sections characterized by minimal production, breathy acapella, and blown-out distorted guitars. The latter of which seeming like an homage to the distorted sound of pop music from the 2000s – the Jonas Brothers' cover of "Year 3000" and Maroon 5's "Can't Stop" come to mind.

"

It sounds like a Maroon 5 song if they had more rock 'n roll in them."

— Jack Radomski

"Light Switch" – While the lyrics don't seem too introspective or exploratory on this 80s inspired sensual dance song, Charlie does seem to be interested in exploring something else. An undeniably fun song that is sure to get your foot tapping.
"There's A First Time For Everything" – While not my favorite song on the album, lush synths abound underneath lyrics exploring an unexpected love.
"Smells Like Me" – In this song about a past love, Charlie questions if his ex still thinks about him with lyrics that sound like something written by pop greats Daryl Hall and John Oates. Charlie manages to strike a similar balance of playful fun and honest sensuality that was popularized by the 80's icons.
"Left and Right" – Charlie calls upon Jung Kook of BTS to aid him in this classic pop song. Both Puth and Kook have a similar vocal register and light breathiness that allows their voices to work well together. They boldly utilize complete panning of the vocals throughout the song, in accordance with the track's title. However, this bold choice comes off more like a gimmicky attempt to be unique without really making the song better.
"Loser" – In the seventh track on the album, Charlie goes through a quick recollection of the thoughts that flash through your head when you get broken up with – or fumble the bag. These often negative thoughts are transposed over a fun 4-on-the-floor track that keeps the feelings light and provide the lyrics a much-need twinge of sarcasm.
"When You're Sad I'm Sad" – Is by far the least fun song on the album, Puth weighs the difficulties of breaking up with someone and moving on – even when you know it's the right move for both of you. He admits how hard it is to knowingly make someone you care about sad even if it's for the better.
"Marks On My Neck" – Another song that got lost in the mix of the other great songs on the album for me, "Marks On My Neck" is a fun, classic pop song with all the familiar guitar stabs and catchy melodies we expect to see on such songs.
"Tears On My Piano"- Charlie's undeniably fun production makes the honestly sad and introspective lyrics considerably easier to swallow as he makes light of his often sad-sounding lyrics and breakup songs.
"I Don't Think That I Like Her"- Puth smartly lays out a description of the unfortunate cycle of modern dating: catching feelings for someone you say you won't, finding out they don't exactly feel the same way, and the quick conversion of love to hate that follows. This relatable expression of humility is coupled with big drums and an always appreciated key change heading the final chorus to give us another stand-out song.
"No More Drama" – On the album's final song R&B-centric production is kept moving by its active baseline, reminding us all of some of Charlie's earlier work from 2018's Voicenotes. Charlie experiments vocally, moving down from his go-to breathy, head voice down to a fuller, open chest tone in some of the verse and pre-chorus that serves to help convey the quiet confidence of finally moving on after a relationship.
The album as a whole feels like a coming of age story as a young man learns more about himself through his experiences dating in today's world. Not only are the lyrics throughout the album his most honest yet, he produced the entire album himself, showcasing what he learned at the Berklee College of Music while exploring a variety of styles and influences to create a cohesive expression of himself. Charlie Puth has cemented himself as one of the top talents in pop music today with the very aptly-named, CHARLIE.