The Best Bars to Watch Gopher Sports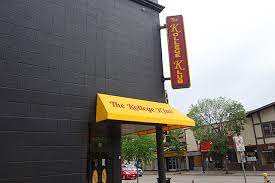 Maroon and gold colors cover the University of Minnesota campus, and the flowers on University Avenue are no different. However, the most maroon and gold you will see is from the fans and students dawning the beloved colors during sporting events. As many fans pour into stadiums and arenas, others support the fandom in another way, crowding bars to watch their team. 
A mile encompasses the six bars that call the campus home, all offering different atmospheres and viewing experiences. Each of the bars have two things in common, Gopher sports and drinks. 
Here is the Gold Guide to the best bars for Gopher gameday.
This is the bar that everyone associates with the University of Minnesota, Sally's Saloon is the quintessential college bar. Sally's is the only bar on campus with projector screens on two walls and TVs mounted everywhere, accommodating for viewing from any seating within the bar. 
Service at Sally's is great, being able to sit at a booth and watch the game while being waited on changes everything. The food is delicious and nothing goes together quite as well as appetizers and drinks while watching Gopher sports. 
The patio located next to the front entrance is a bit small, but allows for more seating or standing depending on the crowd. A great feature that really stands out is the "garage" doors that can be opened to allow for a cool breeze or an outside feel while inside. 
The crowd and atmosphere is extremely passionate making it the best place to watch any sports, but Gopher sports especially. Walking past Sally's and not seeing a crowd inside would feel as though you were in the "Twilight Zone." 
Sally's Saloon should be the first place on any list that involves watching Gopher sports, but be sure to wear Gopher gear or you'll stand out like a sore thumb!
Sally's Saloon is located at 700 SE Washington Ave, Minneapolis, MN 55414
The Kollege Klub is the newest bar on campus, but has a long history at the University of Wisconsin-Madison being founded in 1953. The "KK" as it is commonly referred to, opened in 2019, boasting a two-story outdoor patio and an indoor three level bar with a capacity of 800 people, making it the largest bar on campus. 
The KK features an incredibly lively atmosphere almost similar to Huntington Bank, patrons are always sporting Gopher attire. Even the colors and art work on the walls are Gopher themed, adding to the ambiance of the gameday experience. 
This bar is always packed with excited and passionate fans who are ready to cheer on their team. Alumni frequent the bar as well, making it a great place to bring family and friends from out of town. 
The game viewing experience is second best, the TVs to viewer ratio is not up to the standard that is Sally's Saloon. The KK does plays the commentary through the speakers throughout the bar, allowing viewers to hear what is going on. 
Bars being located on every floor of the venue and the outside patio allows for drink waits to be at a minimum allowing all to enjoy the game and support the Gophers. 
The KK is located at 1301 4th St SE, Minneapolis, MN 55414.
Stub & Herbs is by far the oldest bar on campus, established in 1939, and has been a staple since its inception. This is by far and away the bar for older students and alumni.
The atmosphere of "Sturbs" as it is commonly known as, has the most chill atmosphere of all the bars on campus. The walls are wood paneled adding to the cozy, older feel. 
Stub & Herbs is the only bar on campus with a beer garden during game days, separating itself from the pack. They also have 32 different beers on tap giving it a much larger variety than its competitors. 
Stub & Herbs has three levels, a basement commonly used for hosting live music, the main bar floor, and an upstairs game room. The game room has classic bar games like Big Buck Hunter, Golden Tee, and even a punching machine. 
While not the first bar many students think of, odds are your grandparents or parents have been here a time or two.
Stub & Herbs is located at 227 SE Oak St, Minneapolis, MN 55414.
The only Irish bar on campus is well known for its food. During Gopher games it is extremely common to see families sitting down having a bite to eat while wearing their Gopher gear. 
Booths and tables line the outside of dance floor which is more often used after the games when it turns into a mix of a club and bar. 
There are two floors, a main floor and a basement, with a loft constituting a third floor which features dart boards.. The walls of the main floor are lined with various former Gopher players jerseys. 
There are plenty of TVs to watch the Gophers, but other games are on display as well. This is the perfect place to bring grandparents who aren't looking for a rowdy crowd, but a place to sit down watch the game and enjoy a nice meal. 
Blarney Pub & Grill is located at 412 14th Avenue Southeast, Minneapolis, MN, 55414.
What sets Burrito Loco apart from the other bars on this list is its Tex-Mex flair. They are best known for their "fish bowls" which is a concoction of many different liquors.
Burrito Loco also offers, as you could guess, burritos.
Often times Burrito Loco is not very busy during gamedays, there is a lack of televisions, but offers two floors with two bars. 
This bar would be for people who want to be on campus for the game, and are looking for a mostly empty bar, while enjoying burritos.
Burrito Loco is located at 418 13th Ave SE, Minneapolis, MN 55414.