House of the Dragon vs. Rings of Power: Who Won?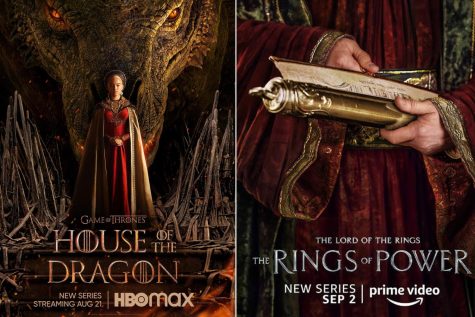 For fans of the fantasy genre, this Fall season has been one of the most exciting in recent memory. Not only did we get a prequel series to arguably the most beloved fantasy series of all time in Game of Thrones, but we also got a prequel series to the story that established High Fantasy as a viable genre in the Lord of the Rings. However, as both series have finished their inaugural seasons, it begs the question: who won?
To answer this question, we'll look at it from a few different angles. First, and probably the simplest one to compare: viewership. While Amazon has yet to release final viewership numbers of the Rings of Power's first season, they've said the two-episode premiere was viewed by 25 million unique customers in the first week. Amazon Studios executive Jennifer Salke also said in an interview several weeks ago that the show was "cresting toward 100 million customers having watched it." These numbers are nothing to laugh at, coming close to the amount of viewers that tuned in to smash-hit Stranger Things' fourth season and surprise phenomenon Squid Game.
On the other hand, HBO has said House of the Dragon has averaged 29 million viewers per episode throughout the first season. While these viewership numbers seem to be in the same ballpark as each other, they are also fairly inconclusive for determining which series was viewed by more people – a conclusion we won't have until both media giants release final numbers. Looking at another metric of overall interest, Google Trends shows that throughout the last week, House of the Dragon has received between 5 and 7 times more search queries than the Rings of Power.
While generating buzz and gaining viewers is a big part of a show's success, for two of the biggest budget television series we've ever seen, another determinant of success has to be revenue. Unfortunately, both of these shows are included in a monthly subscription. This clouds revenue calculations compared to the traditional way of counting box office sales.
Without official numbers, both studios have said that they have seen a significant amount of new subscribers during the duration of the two shows' initial airings. This is a good start, but it is unlikely that either show will directly lead to profit as both had astronomical budgets for television. House of the Dragon reportedly cost HBOMax in the realm of $20 million-per-episode for a 10 episode season. This paired with its massive marketing campaign that ran the studio around $100 million, brings the total cost of the show's first season to $300 million.
On the other hand, it's been reported that production costs for the first season of Rings of Power cost Amazon Studios $468 million, making it the most expensive show ever made (and it shows, I might add). While it's marketing campaign was substantial, it wasn't as widespread as House of the Dragon's, but it's come out that Amazon had to pay the Tolkien Estate $250 million for the television rights of the franchise; this brings the total amount Amazon has spent on Rings of Power to around $725 million.
With costs of that magnitude it's very unlikely Amazon ever turns a profit on the series, but that's not the show's goal according to founder Jeff Bezos. A self-proclaimed Tolkien fan himself, he told TIME, "I hope we do Tolkien's work justice. It goes beyond making a commercially successful show. Everyone working on the show read these stories as kids and our hearts are in it."
"
I hope we do Tolkien's work justice. It goes beyond making a commercially successful show. Everyone working on the show read these stories as kids and our hearts are in it."
— Jeff Bezos
So far, it's up for debate whether they accomplished this. While Rings of Power sits at a respectable 71 on Metacritic based on 40 critic reviews and a solid 85% on Rotten Tomatoes, it's at an abysmal 2.5/10 user score on Metacritic with many Tolkien fanatics upset about it's diverse cast and the different routes they chose to take with several fan-favorite characters from the original trilogy. However, the critical reception is very comparable to that of House of the Dragon, which currently has a score of 69 on Metacritic and 89% on Rotten Tomatoes.
Looking ahead for these two blockbuster series, House of the Dragon is expected to get a total of four seasons to properly tell its story with filming for season two planned to start in early-2023 and the finished season expected to hit small screens some time in 2024. Rings of Power has a head start on its sophomore season having already begun production with the season set to premiere sooner rather than later, potentially in 2023. This comes before three more planned seasons, bringing the series up to an expected five total seasons. 
While the season finales of both shows left viewers debating what was to come next, one thing is for sure: it's going to be big.