Terror on the Town: Halloweekend Edition
The attacks started the night of Thursday the 28th of October. A group of unknown young men loitered around the campus streets with mortars ready to blow. They started at Chi Psi, aka Lodge, and tossed multiple mortars at the house during their highly anticipated "Haunted Lodge" annual philanthropy event. Nobody was reported to be injured in this attack. On Friday, they moved on to Phi Kappa Psi, another fraternity located on University Avenue. One holding a machete, they broke a window and tossed the explosive into the house. Thankfully, again, nobody was reported to be injured. A few more were lit off for the hell of it, with unanswered concerns from students directed at UMN Public Safety.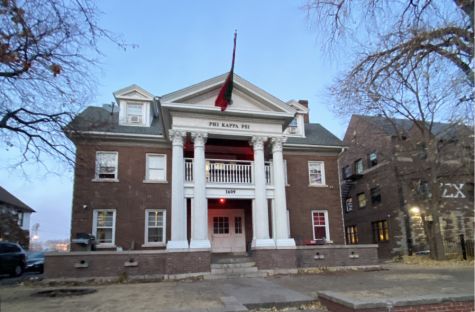 Phi Kappa Psi – the second fraternity to be attacked.
Halloweekend means different things to different people. A weekend for fun, dressing up, and going out with your friends is the general consensus among students. For this group, a more traditional take on Halloween was in order: terror. The following night, Saturday the 30th, the group was out for blood. Patrolling University avenue, they awaited for the crowds to gather. A popular weekend for parties. 11:00 pm rolls around. They decide the streets aren't busy enough to start their immoral reign of mischief quite yet. Maybe another lap around the block would give it enough time. 
The clock strikes midnight and University Avenue is just getting started. Sigma Chi, one of the only fraternities hosting festivities for that night, had a crowd gathering that was north of 250 people. The party was packed. Shoulder to shoulder there was loud music, fun costumes, and nothing but good vibes. There was a constant flow of partygoers at the gate, wanting to dance their night away. With limited space, people congregated just outside of the main room, on the patio just outside. It was a warm night, for Minnesota autumn standards. People were taking pictures to post to their Instagram. People were catching up, and celebrating the Gophers shutting out Rutgers that morning. People were being people. 
It was about 12:15 am. There were upwards of 70 people standing on that patio, with a large remainder dancing inside. BANG! It sounded like a gunshot at first. It wouldn't be that out of place in Minneapolis. Those who live on University knew it wasn't a gunshot. It was too loud to be. Almost immediately, tires screeched as the terrorists laughed, and fled the scene. They knew they wouldn't be apprehended. They already have gotten away with it more than a handful of times!
Screams echoed down the street. Smoke filled the patio because there was almost no wind on that beautiful night. It set off the fire alarm. It was quickly disabled. The fire alarm was the least of the issues at hand. Members of the house took quick action to shut everything down. Get people inside. Call an ambulance, as there were people injured. Call the police, as there were criminals on the loose. 
The ambulance and UMNPD show up. The girls who were hit swarm for the EMTs. Bleeding from their legs, the girls asked to be treated. The EMTs responded that they "hadn't seen anything like this before" and that they "didn't know how to treat fireworks wounds." At least one of the girls ended up in the hospital with shrapnel in her legs. The guys who saw the malevolent terrorists get away asked the cops to pursue it, but the department responds that the situation is out of their jurisdiction. The party was swiftly brought to a close, with the scent of gunpowder and hostility lingering in the air.  
Later reports showed that the same culprits continued their mischievous activities farther down the road, injuring multiple individuals in line at a local pizza shop. 
How could this have happened? Who in their right mind would deliberately terrorize those with nothing but good intentions? Why was there no response from public safety during the first night at Lodge and Phi Kappa Psi? 
Maybe, a progressive outlook on crime is in conjunction with an increase in tolerance of malevolence. Maybe, there are some things that should not be tolerated. Maybe, something like throwing a mortar at large gatherings of people should not be tolerated. Maybe it depends on who you ask. Try asking the police. 
There have been no arrests. The only response from the University is an email proclaiming "Operation Gopher Guardian." A temporary operation. It is said to take place only during the next two weekends, with the goal of increasing law enforcement (up to 10 additional officers – so it could be one or two) in Dinkytown and the Marcy-Holmes neighborhood. Parents and students alike are concerned with safety on campus. Will this tolerance of enmity create a pattern of unanswered violence? We await an answer.