How to Waste Time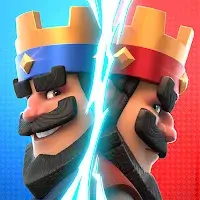 The art of wasting time is mastered by few, but the masters of this art are primarily college students. Whether students are learning about the supply chain or sitting in lectures about ancient roman poetry college students always find a way to distract themselves. The primary method of distraction for students is typically mobiles games. After talking to some of these professional time wasters I have collected the crowd favorite games for wasting time.
Clash Royale
The first game I learned about in my studies was Clash Royale. Clash Royale is a game made by the company Supercell. The game is a free-to-play strategy game. Clash Royale allows its players to create battle decks based on the characters from Clash of Clans, another Supercell game. When playing the game you use your battle deck to participate in real-time battles against other live players. The game has a trophy based ranking system that keeps players locked in and grinding to increase their rank. The reason this game is at the top of the list for students is because it is so addictive. Clash Royale is a challenging and rewarding game. Choosing the correct strategy can allow you to beat any player, but this does not mean that it is easy. Climbing trophies in the game is a difficult task, but when you win it is very rewarding. Clash Royale puts its players through an emotional roller coaster. Losing can be the most frustrating thing, but when you outsmart your opponent and win the game you have the most satisfying feeling. There are currently around 1 million active players on Clash Royale and this number can peak at up to 3 million people.
Balloons Tower Defense 6
Balloons Tower Defense 6, or BTD 6, is by far the favorite game among college students. BTD 6 is the 6th edition of a tower defense strategy games. The basis of the game is using monkey themed towers to pop waves of balloons that get increasingly more difficult. The game costs a few dollars, but it gives you hours and hours of entertainment. BTD 6 has hundreds of challenges for you to take on. The towers in the game are creatively designed and come with interesting upgrade paths. The maps have exciting designs that range from easy to advanced. The game also offers a high level of customization that allows players change the tower and balloon skins. BTD 6 is one of the most fun games on the app store that gives players excitement, challenges, and satisfaction.
2048
2048 is easily one of the most common games to see students playing in class. 2048 is free to play and is once again a strategy game. 2048 features a 4×4 table where you combine numbers with the goal of reaching 2048 without running out of space. This game is super popular among all people because it is not extremely challenging. Reaching 2048 is not the most difficult task, but one mistake and your game could end in failure. There are also many other versions of the game that allow players to enjoy the game with designs that are interesting to them. Julia Cincotta is a lover of this game who said "The cat version of 2048 is my favorite game to play during class because I love 2048 and I love cats."
Other honorable mentions for games to play during class include Dragonvale, BB Tan, Clash of Clans, and Chess.com. Getting through your boring classes is a struggle for many students, but the good news is that there are plenty of mobile games that can help. No matter who you are there is a great mobile game out there that you can enjoy and waste time with during that early morning lecture.