Better Late than Never: MSA Passes Statement of Support for 9/11 Commemoration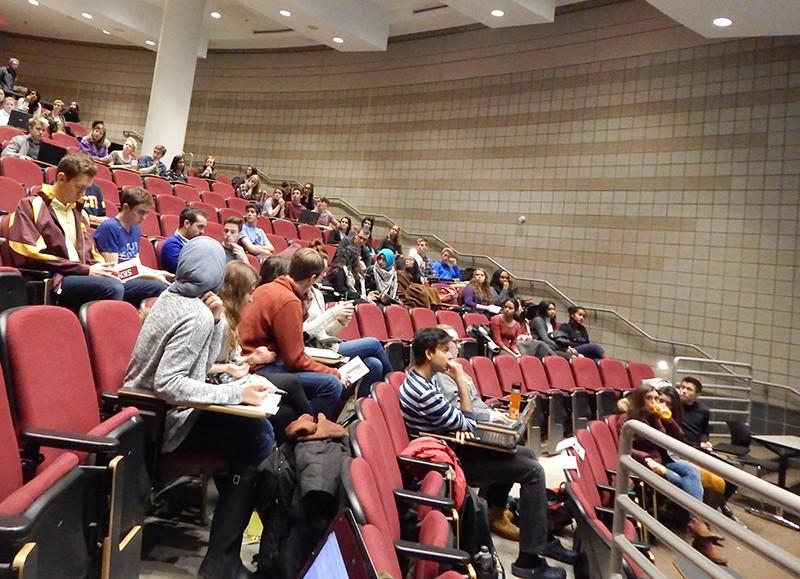 After more than two weeks of national attention, the Minnesota Student Association (MSA) finally passed a statementof support for a 9/11/2001 campus-wide commemoration on Tuesday, November 24.
In the forum on November 10, MSA had rejected a resolution calling for the University of Minnesota to implement a Moment of Recognition on campus on future anniversaries of 9/11. Late last week, the university's administration issued a statement informing the public that the university would hold a 9/11 commemoration event regardless of whether MSA passed the resolution today.
It was very clear that the university's administration received resentful reactions for the politically correct culture of MSA. After the Minnesota Republic broke the story that MSA failed to pass a 9/11 commemoration resolution, it received numerous tweets slamming the student government body.
@PrisonPlanet @MinnRepublic WTF? 😡😧 Don't understand how observing & respecting 911 is racist. Only white people are racist? What a joke!

— Jen Lockwood (@Gwynievre) November 12, 2015
@Lumacas @MinnRepublic the UMN student government is embarrassingly spineless. — TJ Lutz (@mrtjlutz) November 14, 2015
In order to foster an environment that respects the entire university, stakeholders were identified by MSA executives, and they met Monday to discuss the statement of support. Included were the College Republicans, the Al-Madinah Cultural Center, the Muslim Student Association, the Student Veterans Association, and others. Concerned students were also welcome to attend and voice their concerns.
Discussions at forum on the statement of support prior to the vote on the statement lasted for over 40 minutes. Tension remained visible, and voting representatives criticized the university administration for issuing a statement informing the public of their commitment to a 9/11 commemoration before MSA had made their final decision. Trish Palermo, Committee Director of Campus Affairs and Student Engagement, pointed out "There was a valid concern raised, that the way the administration went about [implementing a 9/11 Moment of Recognition] was not necessarily the best way."
This was a statement echoed by a number of other MSA members. Others worried that it would set a dangerous precedent for commemorating tragedies in the future.
Noah Hummel-Hall, the student Group Representative for Lingo, a linguistics club, argued that the statement of support wouldset a dangerous precedent for MSA, as the organization does not currently commemorate other national tragedies.
"Three things, you know like the Rosewood Massacre that we're not having a Moment of Recognition for on campuses, you know we have the Trail of Tears that I don't think we have a Moment of Recognition for on campus recognized by the university," said Hummel-Hall, "And we have what – 18 billion, 600 million non-human animals slaughtered every year and we don't recognize that. You know, so we have a lot of, a lot of lives that are being lost on American soil that we're not recognizing."
CLA Student Senator Cameron Holl quickly responded to Hummel-Hall's statement by arguing it actually sets a positive precedent because it promotes MSA's willingness to acknowledge and commemorate national tragedies.
Information pertaining to the specifics of the 9/11 commemoration will be decided closer to the date itself. MSA president Joelle Stangler informed all in attendance that she was assured by the administration that students will be involved in the planning of the campus commemoration.
"I very pleased with the result," said statement co-author and College Republicans student group representative Theo Menon, "I believe we have constructed a cohesive and inclusive statement of support."