Everything you need to know about the WeWork IPO fiasco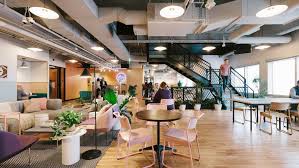 WeWork is a real estate company that specializes in providing shared workspaces for small startups, with the majority of these being small tech companies. Founded in New York, WeWork now has offices in hundreds of locations across the world, including Minneapolis' Capella Tower. The company prides itself on being the new way to do business and collaborate.
WeWork customers essentially buy memberships to "shared office spaces" that have all the modern amenities that you could ask for. These include open spaces, office suites, the latest technology, fresh food and coffee, and anything else to make a comfortable and functional workspace.
It's no wonder why young entrepreneurs and their startups have been excited about the top-class facilities and the ability to collaborate with others who are in similar situations with their company and in life.
Now if you thought that this sounds like a great idea and a great company to invest in since it is still relatively new, you are not alone. On August 14th, 2019 WeWork filed its Initial Public Offering paperwork. Since then the company has been on thin ice in the media and under fire with investors. A lot of this scrutiny has been because of WeWork's co-founder and former CEO Adam Neumann, who doesn't necessarily do things by the book.
One example of his behavior that initially worried investors and attracted a variety of media coverage was when he smoked weed on a private jet to Israel with his friends. Elon Musk similarly was open to smoking weed on The Joe Rogan Podcast, and the Tesla stock prices subsequently took a tumble. Right or wrong, you would think that Adam Neumann would have at least taken note of Elon's actions resulting in investor worries. Considering his company has been at a make it or break it stage, the last thing they need is investors getting cold feet for any reason.
Another example of Adam Neumann's unusual and rightfully concerning leadership style occured when he advised management to lay of 20% of the company in 2016. That was obviously unrealistic, so the result was 7% of the startups' new employees losing their jobs. In a meeting afterward, Neumann addressed employees who hadn't been laid off, saying that it was necessary for the company to make financial cuts, then had one hundred dollar bottles of tequila brought in to celebrate.
This rightfully didn't sit well with a lot of the employees, and again the story made its way to the media. Who pays attention to the media? Investors. All these events played a part in WeWork's valuation plummet, and eventually the company postponed its initial public offering and announced the delay on September 17th.
Now the blame can't be solely placed on Neumann's leadership style because frankly the modern CEO has to be a little unconventional with their creativity. Even though Neumann might have been a little over-the-top, the real worry for investors comes down to finances and profitability.
This year WeWork actually passed JP Morgan as the most rented space in New York. This obviously comes at a huge cost to access all of that space in one of the country's most expensive real estate cities, and WeWork has an estimated 50 billion dollars' worth of long term lease agreements. Since the real estate market is predicted to enter a downturn, it is unlikely the company will be able to get enough workspaces filled to cover that cost.