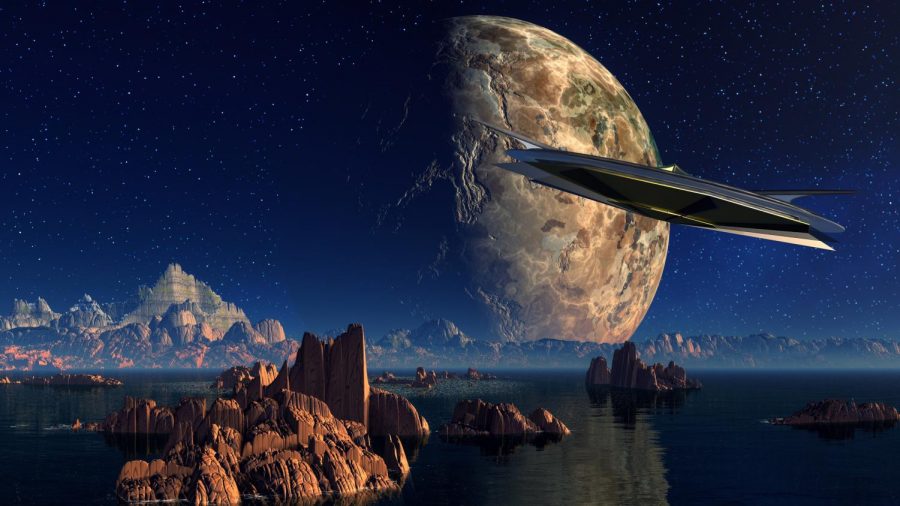 Eternal Atake has arrived: Baby Pluto, Orenji, and Lil Uzi Vert explained
March 20, 2020
On March 6th 2020 Lil Uzi Vert released his much anticipated second full length studio album, Eternal Atake.  His latest release prior was Luv Is Rage 2, which was released in 2017, three years ago. Eternal Atake was streamed 47.7 million times in the first 24 hours on Spotify alone, with the first track on the album "Baby Pluto" charting at number one in the United States with 3.36 million plays respectively.
Although Uzi in many ways stays true to form on this project it is also important to recognize that Eternal Atake is very much a concept album and should be listened to in the order that Uzi intended.  The album features three separate sections that feature distinct transitions on the end tracks of each section that demarcate where Uzi's three different "personalities" or styles are on the record. The first track, "Baby Pluto" begins with a voice saying "welcome to eternal atake" and is the first of the songs authored by "Baby Pluto" the first of Uzi's alter egos.
During the three years in between Luv is Rage 2 and Eternal Atake, Uzi had three distinctly different hair styles.  A short black buzz, a sharp departure from past more colorful styles, a variety of blue/green dreadlocks, and bright orange hair.  Three years, three styles, and three different personalities/flows. The short black hair is Baby Pluto(tracks 1-6), characterized by his rapid fire delivery on tracks like "Silly Watch" and "Lo Mein."  The second of Uzi's personalities to appear on the album is Orenji or simply Renji(tracks 7-12), characterized by Uzi's bright orange hair at the time, and the utilization of instrumentals that are more synth heavy.  Orenji also rides the vibe of the beat in a way that is more melodic and less abrupt than the rapid fire delivery of Baby Pluto. The final of Uzi's personalities to appear on the album is Lil Uzi Vert himself(tracks 13-18) who takes over from Orenji on the song "Urgency" featuring Syd, the only feature on the album.
Uzi has since confirmed this theory himself on twitter, and fed into the idea by allowing fans to vote between three different covers for the album prior to its release.  One cover featured an image from space (Baby Pluto), one a collage of bright orange crystal (Renji), and one a rework of the cover of one of Uzi's past projects, Luv is Rage (Uzi).
Eternal Atake is 18 songs long and provided much needed content to Uzi's starving fan base.  But in typical Uzi fashion, when it rains it pours, and he blessed his followers with a Deluxe edition of the album just weeks later.  The deluxe edition features 32 tracks, for a total of 14 new songs. According to Uzi, the deluxe editions additional tracks function as a follow up to his 2016 project "Lil Uzi Vert VS. The World."  The deluxe also features songs that were leaked as snippets years ago, and were highly anticipated by fans such as the track "Myron" which has done serious numbers in the days following its release.
My favorite tracks on the original album are Baby Pluto, Baby Pluto's first track, Bust Me, Orenji's last track, and Venetia, by Lil Uzi.  One of the more memorable lyrics from these tracks comes from Bust Me, where Uzi croons,
"
"she took SEPTA to my block, she said "Uzi can you bust me?""
— Lil Uzi Vert
 I think it's a funny flex saying she took SEPTA, which according to my roommate who went to Temple University in Uzi's hometown of Philadelphia, is notoriously dirty and run down.  This song also features a break in the build up of the beat, right at the beginning of the song that I appreciated as it allowed for some more emotional lines from Uzi like
"
"she was on my phone line, steady bustin' now she wanna slow grind, she said I was nothing.""
— Lil Uzi Vert
Eternal Atake came at a perfect time to cheer us all up during the epidemic of COVID-19 that is resulting in the canceling of major events all around the world including popular music festivals like SXSW.  Thanks Uzi, ok bye.