The Notorious Return
One of the most influential fighters of all-time is once again returning to fighting soon. Conor McGregor, professional MMA fighter and boxer, is returning to fight in the Ultimate Fighter Championship and potentially professional boxing. Over the past couple of years, McGregor not only has increased his following but also has become the face of the UFC and has created tremendous growth for the sport of Mixed Martial Arts. In 2017, McGregor took a massive leap and fought the undefeated Floyd Mayweather Jr. in one of the biggest combat sports competitions of all time. While McGregor lost, he showed great promise in his ability. 
Recently, it was announced that McGregor would fight again in the UFC against Dustin Poirier (26-6-0). This will be the second fight between the two, with the first happening in September 2014. McGregor took that fight in a first-round knockout.  
Coming off a win against Donald Cerrone in January 2020, McGregor is the favorite to win this upcoming fight. Poirier, known for his Brazilian jiu-jitsu style, is also coming off a decision win against Dan Hooker. In the past, the Irish southpaw has shown weaknesses against fighters like Khabib Nurmagomedov, to whom McGregor lost in submission. Typically, McGregor outperforms standup fighters rather than strong wrestlers like Nurmagomedov.
Possibly the biggest news of this upcoming fight is the venue McGregor wants to fight at. McGregor was vocal on Twitter about accepting a fight against Dustin Poirier.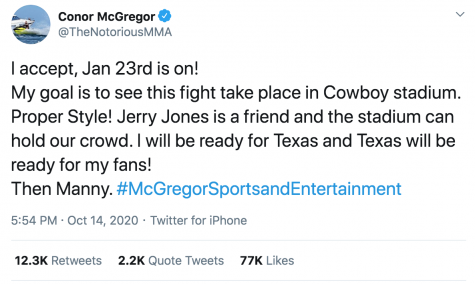 Having a UFC event at AT&T Stadium (formerly Cowboy Stadium) would be the biggest UFC event in history in terms of attendance. AT&T Stadium can hold more than 80,000 people, with Dallas Cowboys games averaging 90,000 or more fans per game. AT&T stadium more than quadruples T-Mobile Arena in Las Vegas which can hold only around 20,000. In a perfect world, there would be 80,000 people in attendance at this event, but with COVID-19 restrictions, it is highly unlikely the stadium will be filled.
McGregor has had interactions with Dallas Cowboys owner Jerry Jones in the past. With both McGregor and Jones being great businessmen, it is not out of the question for the two come to an agreement about the venue. McGregor has become the man to fight over the year because of his ability to rake in the pay-per-view buys. Earlier this year, his fight against Cerrone brought in two million pay-per-view buys each costing nearly $70.
The UFC has done a top-notch job of protecting its athletes and employees from COVID-19. When all the lockdowns started to come into effect across the country, Dana White, president of the UFC, bought an island to hold all events until restrictions would be lifted. Yas Island, located in Abu Dhabi, United Arab Emirates, has implemented many crucial tactics to accommodate the fighters during their stays on the island and to protect the fighters in the hot climate of Abu Dhabi. All fighters have to go through rigorous COVID-19 testing before they are allowed to travel to the UAE and fight. In addition, none of the events held on the island have had spectators. As of September 23, only 12 fights were canceled or postponed due to a fighter testing positive for the virus.
The upcoming UFC event is not the only news that McGregor has been part of, though. McGregor has also referenced a potential fight with Manny Pacquiao in his tweet. There has been a lot of skepticism over the past three years on whether McGregor would return to the sport of boxing after losing his first and only bout to Mayweather. With little training, McGregor was able to put on a good fight against the most dominant athlete of all time, so it is likely that McGregor would be prepared to return against Pacquiao. If this fight comes into existence, McGregor has a serious opportunity to cement himself as one of the best fighters ever.