DinkyTown's Newest Hit: Tiger Sugar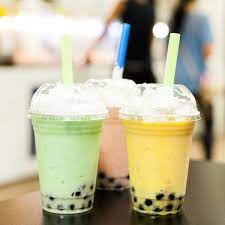 In the past few weeks, Dinkytown had a new store open known as Tiger Sugar. The store received a lot of customers during its grand opening. The store focuses on selling boba tea, which has been popularized on a lot of college campuses, especially at the University of Minnesota. I am interested in seeing how they manage to compete with the plethora of other boba tea shops within our community. I imagine they will most likely see a lot of success in their first couple of weeks since opening, however, they will have to substantially increase their menu, since selling boba alone does not seem to be a long term feasible source of revenue, especially with all of their nearby competitors. 
I recently visited their shop to taste the boba tea for myself, and while I am not a fan of boba tea in general, I found that their customer service and presentation were quite appealing. Some of their signature drinks include a presentation of brown sugar that imitates the tiger stripes, hence their company name. While the drink was quite refreshing and had a very interesting presentation, I did find that the drink was a little too sweet for my liking. I am sure this could be a result of them using brown sugar, which to me seems to taste slightly sweeter than the standard white sugar. Additionally, another factor that allows for them to stand out is their overall store layout. They have a very clean and organized store and a great store culture. I am very comfortable spending time at their store and would like to return mostly based on how clean and well kept the store is.
Their franchise's story is quite compelling, they are originally based out of Taiwan and opened a location there. Apparently, the process for making their signature drinks takes about 8 hours to complete their signature syrup and the tapioca pearls. I can appreciate a business that is actually taking the time to master its craft, so I am sure that all of that effort will pay off and be appreciated. One of their signature and more popular drinks is the "Brown Sugar Boba Milk And Pearl With Cream Mousse." I enjoyed the drink a lot. The drink had a lot of depth and I appreciated it, despite boba tea not being one of my favorite drinks out there. As I previously mentioned it was on the sweeter side, but overall it was an okay drink nonetheless. I wanted to get the opinions and thoughts of other students and customers on campus to see how their thoughts and feelings compared to my own. 
I briefly spoke with some students and asked them how they felt about the product they were purchasing and how would they rate their experience overall. Most students seemed very content with their experience and claimed that they would go back again. However, I did encounter a student who was not all that impressed with their experience. He claimed that "If we are going to have another store, I would prefer that it was something different." This is a completely valid sentiment. While it is awesome that a new business is opening in our community and I encourage everyone to support them, it would be nice if they could expand and add something new to their existing menu. Honestly, it would most certainly be to their benefit if they do.
"
While it is awesome that a new business is opening in our community and I encourage everyone to support them, it would be nice if they could expand and add something new to their existing menu
Personally, I think it would be a shame for this business to not thrive, simply because of the simplicity of their menu. They have everything else that it takes to stand out, but their product itself just is way too common for the area that they are trying to sell in. They have a lot of compelling features and a story that makes you want to support their brand. Overall, the experience was good enough to the point where I would recommend it for most people to try at least once. The customer service was great and I would love getting to meet the owners and hear about their own personal experience with the store as well, and learn why it is they are involved and what it is their favorite drinks are.