Juice WRLD's Posthumous Legacy Expands with the Release of "Fighting Demons"
December 8, 2021, marked two years since the tragic passing of the beloved rapper Juice WRLD. He died of an accidental overdose just six days after his 21st birthday. December 9 was announced as the first inaugural Juice WRLD Day. The purpose of the day was to bring fans together to celebrate Juice WRLD before the release of his new album. The official Juice WRLD Day event was held at the United Center in Chicago.
Fans who attended were witnesses to special performances and speeches from people who were closest to Juice WRLD. These people included his mother, Cole Bennet, DJ Scheme, Ski Mask The Slump God, and Trippie Redd. Those in the arena also were allowed to hear his album before it was officially released. Its release came at midnight on December 10. "Fighting Demons" is Juice WRLD's second posthumous album and first since July of 2020.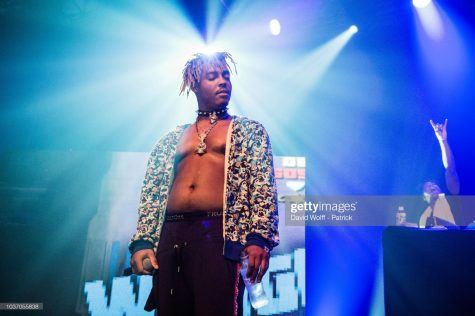 Juice WRLD has always been known for combining his musical genius with his ability to articulate his feelings. He became the voice of a generation of people needing to know that they're not alone in their mental health struggles. Juice WRLD's first albums were mostly centered around heartbreak and love, but his latest work has focused more on issues like anxiety and addiction. This theme continued in "Fighting Demons." The album contained tracks named "Eminem Speaks" and "Juice Speaks" that shine light on these issues. Eminem, who Juice WRLD looked up to, spoke about his struggles with addiction and the hopelessness he felt during his fight. He ended his message by saying "I would say to anybody that it does get better, you know? It just- it does." Juice WRLD's words came from a 2019 interview where he explains how his music is intended to help others.
"
I would say to anybody that it does get better, you know? It just- it does"
— Juice WRLD
"Fighting Demons" was very consciously constructed by Lil Bibby, the founder of Grade A Productions. Before the album was released, Lil Bibby revealed his thought process of putting the album together in an interview with Complex. He said, "I just wanted to put together the best songs that he had. But I still wanted to tell a message. The way he passed, from drugs stuff, I wanted to tell a message where it's kind of teaching a lesson. The kids shouldn't do this type of stuff. Or if you are going through any of the stuff that Juice was going through, like anxiety or depression, then you should probably find help." Lil Bibby also used the features on the album to spread this message.
The biggest of them being Justin Bieber. Bieber was known for wanting to work with Juice WRLD and he also spoke about facing addiction. The other features on the album are Polo G, Trippie Redd, and Suga from BTS. When asked about these additions, Lil Bibby said, "I always like to go to the guys that I know he was truly friends with. So, I had to do Polo G and Trippie Redd because they were his real friends. I always used to pull up to the house, and they were just over there, not even doing music all the time… Then Juice did a song with Suga from BTS. Suga is really big on mental health, too, so it just fit the project." Hopefully the emotional intensity of "Fighting Demons" was not too much for Juice WRLD's fans because they will soon be given an even deeper look into the rapper's life and battle with addiction.
To build on the hype of a brand-new album, HBO is releasing a documentary titled "Juice WRLD: Into the Abyss" on December 16. The documentary was directed by Tommy Oliver. Oliver was given a plethora of intimate footage from the short career of Juice WRLD. He was tasked with going through the footage to create a piece that depicts who Juice WRLD really was.
Billboard interviewed Oliver about his experience. He was very passionate about the work he'd done and said "It was an interesting journey for me getting dropped into somebody's life in such a personal way… It was really emotional. Just imagine getting handed somebody's diary who is no longer here, and you just have all of their most intimate, honest, and vulnerable thoughts." These projects are evidence that Juice WRLD's legacy and influence will continue to grow, even without him being here to grow with it.
Juice WRLD fans are not expecting to have to wait much longer for his discography to grow as it is confirmed that he has left behind a catalog of thousands of songs. They will, however, spend the time being soaking in the beauty and sorrow of the genius's latest masterpiece.