University of Minnesota Can Look to North Dakota For a Clean Energy Example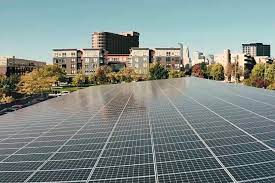 National Clean Energy Week is September 26-30, and the efforts to implement clean energy across the country should be supported this week. North Dakota is an excellent example of a state pursuing renewable energy efforts and succeeding, and Minnesota should follow suit. Renewable energy will be an essential part of North Dakota's energy supply in the future and it will provide a boost to the state's economy as the industry continues to grow. 
As North Dakota continues its all-of-the-above energy approach led by elected officials such as U.S. Senator Kevin Cramer, renewable energy should be recognized as a key component of its success. The North Dakota energy sector supports thousands of jobs, accounts for $3.2 billion annually, and is a vehicle for growth within the state. Sources such as nuclear power, wind, and hydropower supply homes and businesses across the state with energy.
The bipartisan infrastructure bill that was passed by Congress will bolster North Dakota communities by providing over $530 million to the state. Critically, the investments from the new infrastructure law will also help North Dakota continue to build on the progress the state is making to advance a range of clean energy technologies. 
These include investments that will help North Dakota continue to grow and diversify the state's energy mix, enabling North Dakotans to incorporate cleaner forms of energy while developing technologies that will reduce emissions and make energy more reliable and affordable for North Dakota consumers and businesses alike.
Specific funding for projects such as the orphaned well cleanup on state and private lands will clean up North Dakota land and will allow for the land to be used productively again. These orphaned wells can leak methane and contaminate the groundwater supply, and their cleanup is now being prioritized. This project will help to create or retain thousands of jobs across the state while safeguarding North Dakota land.
These critical technologies include energy storage and carbon capture, both emerging fields in which North Dakota is primed to lead. In fact, researchers at the University of North Dakota are already working to develop solutions that will help permanently store carbon emissions miles below the ground through the North Dakota Storage Assurance Facility Enterprise (CarbonSAFE) program.
Similarly, local researchers at North Dakota State University are continuing to explore the potential of energy storage to help make renewables more practical, increase energy efficiency, and lower energy bills.
The University of Minnesota has also been researching and implementing techniques to become carbon neutral by utilizing clean energy. The University community has started to use solar panels on buildings and looks to use wind and solar energy across the campus to become a cleaner campus. 
Jessica Hellman, director of the Institute on the Environment, believes it is the University's role to lead by example in the community. She stated that "We're not just here to educate students who are enrolled, but to serve as a learning community for the entire state."
"
We're not just here to educate students who are enrolled, but to serve as a learning community for the entire state
— Jessica Hellman
Senator Cramer, representing North Dakota, played an important role in getting the infrastructure bill passed. He paved the way for the state to receive these much needed funds to repair infrastructure and to strengthen the clean energy initiatives across the state. As North Dakota advances their clean energy initiatives, Senator Cramer should be applauded for his role in bringing the necessary funding to the state.
University of Minnesota students can also engage their U.S. Senators to call for them to adopt clean energy initiatives and support policies that use an all-of-the-above energy approach. Senator Klobuchar and Senator Smith can be influenced by young college voters to support these approaches in Congress. 
These efforts are an example of North Dakota leading in innovative energy solutions and offer a path for Minnesotans to follow. The infrastructure law and the research efforts of the state's universities will enable North Dakota to continue exploring new energy technologies and expanding on the all-of-the-above energy strategy, all of which will strengthen the state's energy resources and supply and cement the state's reputation as an energy leader.
This week and going forward, Minnesotans should support practical and clean energy solutions that take advantage of all the state has to offer. Through the recent bi-partisan infrastructure bill and the efforts of Senator Cramer, North Dakota is set to be a leader in clean, reliable energy that supports the state for years to come.
Minnesotans can also use the federal funds from the infrastructure bill and from other clean energy policies to implement clean energy solutions to the campuses and across the state.