Spring Jam 2023
When: Saturday, April 22, 2023
Location: Lot 37, UMN Campus
Spring Jam at the University of Minnesota is an annual event that brings together students and the community for a weekend of fun and entertainment. This highly anticipated event marks the end of the academic year and start to summer and warmer weather. With a lineup of talented performers, thrilling activities, and delicious food and drink options, there is truly something for everyone.
Tickets
Tickets are free for any student with a valid U card at the event entrance. If a U-card is not present the general public ticket is to be $15. While university students don't need to be 18 years or older, anyone purchasing a general ticket must be. You must present a valid government-issued ID at the entrance and the name of said ID must match that of the ticket. Lastly, only one ticket can be purchased per person.
Attractions
Spring Jam also offers a wide variety of activities, including carnival games, food trucks, and art exhibits. One of the biggest and most popular attractions Is the carnival area, which features classic games such as whack-a-mole, ring toss, and balloon darts. Don't forget to stop and get you're carnival food as well! The Ferris Wheel, Fun Slide, Carousel, and various games can all be enjoyed throughout the night.
For those who are 21 and older, they can enter the Beer Garden. Here you can interact and try drinks from various vendors. Offerings include Lift Bridge Juice Box Seltzer, Sociable Cider Werks Freewheeler, Bauhaus Wonderstuff, and Indeed Lucy Session Sour. This is the ultimate spot for beer lovers and those who enjoy spending time outdoors in a lively environment.
Additionally, when the appetite kicks in from a day of walking around and listening to music, there will be various food trucks available to test out. While eating, or after you're done, you and your friends can enjoy the outdoor ping pong and foosball tables for some friendly competition.
Music Lineup
Spring Jam offers a diverse lineup of musical performers and attendees can expect forms of hip-hop, pop, country, and electronic music. There are 5 performances in the lineup.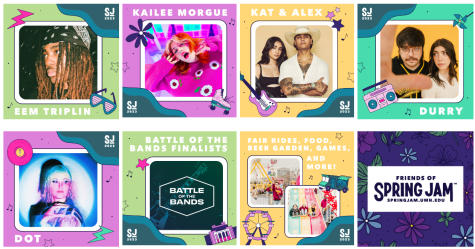 Eem Triplin

Hailing from Johnstown, PA, Eem Triplin is a talented 21-year-old artist and producer who has made a name for himself in the music industry. In the past two years, he has worked closely with artist $NOT, producing beats for tracks like Revenger, Benzo, and Davanti. As his producing skills grew and flourished, his passion for rapping began to grow. He released his first self-produced single called, "Awkward Freestyle." The track gained an impressive following, with over 20 million streams to date. He continues to expand his catalog and is now racking up hundreds of thousands of daily streams, proving his rising star status.

Kat & Alex

Kate and Alex embody classic country styling and values while adding a unique Latin twist. As a husband-and-wife duo based in Nashville, they bring a fresh approach to the genre with a full-bodied soulful delivery, engaging instrumentation, and bilingual lyrics. Both appeared on American Idol as individuals and then came home and collaborated on original music as a duo. After their success on the show, their tracks such as "I Want It All" and "We Bought A House", both of which were released in Spanish as well, gained them recognition by Nashville Lifestyle, Billboard, CMT, and People magazine.

Kailee Morgue

Kailee Morgue is an American singer-songwriter that first gained attention for her unique voice and dark pop sound on her debut single "Medusa" in 2017. In 2020, she leased her debut album, "The Prologue," which further solidified her reputation as a rising star in the alternative pop scene. Kailee Morgue's music is often said to explore themes of love, loss, and mental health, with a focus on mental health.

Durry

Amid the pandemic in 2020, siblings Austin and Taryn Durry, quarantined together, and collaborated for the first time in creating music. Their breakthrough came in 2021 with their song, "Who's Laughing Now", went viral on TikTok. They have a distinctive blend of nostalgic indie-rock and are prepared to make their mark in the music industry.

DOT

DOT is an American singer-songwriter and began her journey at a young age, writing and recording her own songs in her bedroom studio. Her unique sound blends elements of indie pop, electronic, and R&B. Her breakthrough came in 202 with the release of "Follow Me", which amassed over 50 million streams on Spotify alone. Her music often explores themes of love, relationships, and self-discovery, with a focus on authenticity.
Altogether, the Spring Jam event at the University of Minnesota is a much anticipated annual event that brings together students, staff, and the community. With a wide range of musical acts, food vendors, and activities, the festival offers something for everyone.