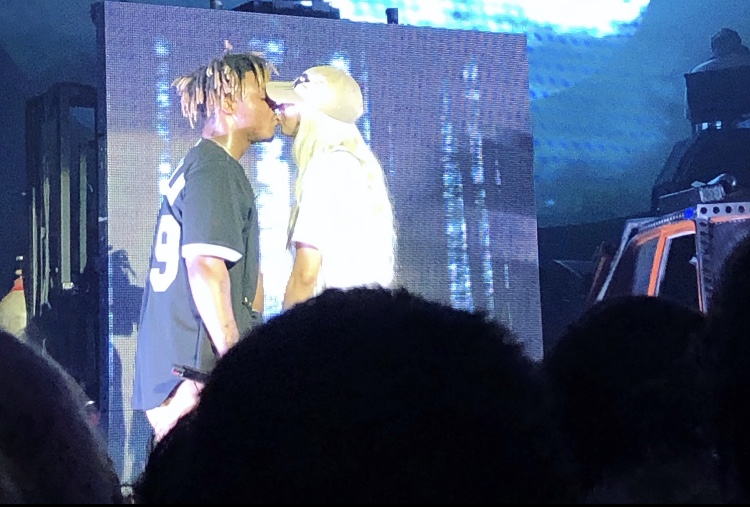 The first posthumous Juice WRLD album is on the way!
April 18, 2020
Since his death in December of 2019 Juice WRLD has managed to stay not only relevant, but incredibly popular.  Since his death Juice has appeared on a number of incredibly popular tracks such as Eminem's "Godzilla," Gherbo's "PTSD," and a remix of YNW Melly's popular hit "Suicidal."  The track "Godzilla," topped the Billboard Hot 100 Chart the day it was released, and has been streamed over 100 million times respectively. "PTSD," the most played song on Gherbo's latest project of the same name, has over 10 million views on YouTube alone.
At the same time Juice has been doing numbers with features on popular tracks he has also been having somewhat of a rebirth on SoundCloud.  Since his death, unreleased Juice WRLD tracks on the platform have dominated the site's traffic.  Tracks like "London Tipton" have garnered 30 thousand plus streams before being removed by site admins, and re-uploaded by fans just to earn thousands of plays again.  
YouTube has also been awash with Juice WRLD content, as never before seen radio freestyles, and interviews were released to fans in the wake of his death.  Adam 22, the host of the No Jumper podcast, has released a slew of Juice related content, including interviews with his long time friends Dj Scheme, Danny Towers, and Gherbo.  These various clips, each sporting close to half a million views, provided fans with their first insight into how Juice's death impacted his friends in the hip hop community.
In a recent interview with XXL magazine Juice's friend, collaborator, and idol, Future opened up about missing Juice and said that he is still "heartbroken."  Many of Juice's friends and acquaintances have taken to posting about him in the near 6 months since he has been gone, including Ski Mask the Slump God, Cole Bennett, Dj Scheme and his girlfriend Ally Lotti.  "We are just some kids trying to have fun and enjoy the world, and sometimes people forget that but I'm glad we got to enjoy it while it lasted," said Dj Scheme in a heartfelt social media post.
"
"Nobody with love like you shouldn't be here right now… Enjoy heaven the whole gang will be reunited before you know it, Love you J.""
— Dj Scheme (Via Instagram)
The good news is that we may be able to appreciate more of Juice's legacy soon.  According to Lil Bibby, Juice WRLD's long time friend and executive of the record label Grade-A, under which Juice was signed, a new Juice WRLD album will be "coming soon."  Bibby has gone on to confirm to fans that the leaked track "Blood on my Jeans" will be on the project. The unreleased track has been streamed on SoundCloud by fans more than 10 thousand times before being removed and re-uploaded.
According to individuals close to Jarad and his estate, he recorded some 2,000 unreleased songs before his death.  With a typical album featuring anywhere from 20 to 30 tracks on the high end, I think it is safe to say that there will be new Juice WRLD content coming out for a while.  Juice also reportedly collaborated with artists such as Trippie Redd, Polo G, and Lil Uzi Vert before his death.  It will be interesting to see if these tracks will come out on the Juice WRLD album, or if they will be released by other artists with Juice as a feature.  
In addition to existing collaborations Lil Bibby also tweeted out,
"
"gotta get Frank Ocean on this Juice album,""
— Lil Bibby (Via Twitter)
suggesting that the project may contain features that Juice did not complete before his death.  Although I have expressed my distaste of this practice when it came to XXXTentacion's posthumous project "Skins," I think this situation is different. Bibby is not only the head of the label in charge of Juice's legacy, but he was also his close friend.  I for one trust Bibby to do right by Juice, and I have no reason to doubt that the album will be anything less than a banger. R.I.P. J.