President Donald Trump, hip hop head or clout chaser?
January 28, 2021
On January 20th, 2021, Donald Trump left the White House for the last time and the peaceful transfer of power to President Joe Biden was completed. Before leaving office, however, 45 decided to pardon rappers Lil Wayne and Kodak Black. During the final hours of Trump's presidency, he approved a whopping 73 pardons and 70 commutations including the two aforementioned rappers as well as Michael Harris of Death Row Records. There are undoubtedly a lot of factors playing into who got pardons and why they deserved it. But it remains unclear why Trump pardoned the duo specifically and not other high-profile celebrities like Joe Exotic who openly expressed his support for Trump during his bid for re-election in 2020.
Although it is strange this is not the first time Trump has shown an interest in the lives of some of hip hop's biggest icons. In 2019 then President Trump was instrumental in the release of fellow New York native ASAP Rocky from custody in Sweden. Rocky, real name Rakim Myers, was charged with assault following an alleged fight on July 3rd, 2019, a video of which was widely circulated online. Following Rocky's release in early August Trump authored one of his more hilarious tweets, "it was a Rocky week, get home ASAP A$AP!"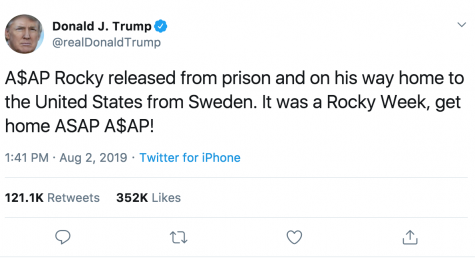 In addition to pardoning Lil Wayne and Kodak Black, Trump also had a very interesting relationship with Kanye West. I, for one, was not surprised to see the chemistry between the two as they are a lot alike in many ways. One of the more interesting moments in the whole Trump-Kanye story was when Kanye said that 400 years of slavery "was a choice." Although this particular incident did not directly involve the 45th President, it occurred nearly one year after his and Kanye's relationship, as well as his presidency, began. It also marked the beginning of Kanye's second and more noticeable decline in the quality of his music as well as his public image.
Throughout his presidency, Trump took very unusual stances on a variety of topics but his stance on hip hop is by far the most perplexing. As the self-proclaimed "law and order" president, he helped two felons get out of jail time related to illegal firearm possession charges. At the same time that the administration was rushing to pardon Kodak and Wayne, it was also preparing to execute five prison inmates on death row, the last of whom was put to death on January 16th, 2021.
This begs the question, does Trump like hip hop? Is he just another "culture vulture" trying to appeal to the masses? I think the easiest way to assess the relationship between the 45th President of the United States and hip hop culture is by looking at what his rap "friends" say about him. Since Kodak Black's release from prison, he dropped the track "Last Day In." On the track, Kodak raps "Trump just freed me, but my favorite president is on the money, all they hatin' presidents has become evident to me." Following his pardon Lil Wayne also released a new track titled "Ain't Got Time." Although Wayne thanked Trump publicly on Twitter for granting him clemency, the new track is a staunch rebuttal of "law and order," with the 38-year-old MC rapping, "I stare at the Pacific while I'm smoking on a kilometer, the feds they hot on us, one hundred on the thermometer." Although Trump was undoubtedly kind to Weezy, he was not so kind to his fellow potheads with the Trump administration reversing the Obama-era federal non-interference policy leading to threatened crackdowns on states that had legalized the adult use of cannabis.
"
Trump just freed me, but my favorite president is on the money, all they hatin' presidents has become evident to me"
— Kodak Black
Although it is safe to say that Trump's love for hip hop only extends to his mutual fondness of money, the 45th President has opened a box that will be tough to close. Only days after taking office, President Joe Bidden has been called upon to pardon YNW Melly by members of the rappers camp. Although I am doubtful that President Biden will be as cavalier with his pardon power as his predecessor, he is now exposed to the same pressures and actors that secured these legal victories for hip hop heavyweights. Only time will tell what will come of his approach to legal justice reform.