CPAC turned MAGA-PAC
If the Conservative Political Action Conference serves as an annual barometer for the American Right and Conservative movement, then every indication shows that the Republican party is most definitely still the party of Donald Trump.
People from across the country flocked to this event to have the chance to hear from the biggest names in Conservative politics and media. While these speakers gathered enthusiasm at the event, it was obvious that CPAC 2021 was all about promoting Donald Trump.
Despite a tumultuous final weeks to his term as president, Trump remains the centerpiece of the Republican party, and this was shown in CPAC's annual straw poll. 95% of poll voters said that they want to advance Trump's policies and agenda, and 68% would like to see him run for office again. In a poll asking, "If the 2024 election were held today, who would you vote for?", 55% chose Trump, with the only other double digit scorer being Florida Governor Ron DeSantis with 21%.
These numbers indicate that Trump is still very popular within the Republican party, and they knew it at CPAC. Texas Senator Ted Cruz exclaimed to excited applause, "Donald J. Trump ain't going anywhere."
"
Donald J. Trump ain't going anywhere"
— Ted Cruz
Some speakers went after Trump's opponents within the Republican party. The former president's son, Donald Trump Jr., and Florida Representative Matt Gaetz promoted primary challenges for Trump's critics like Representative Liz Cheney. On Sunday, Trump went on to call out Cheney and similar peers, "Hopefully they'll get rid of her with the next election. Get rid of 'em all."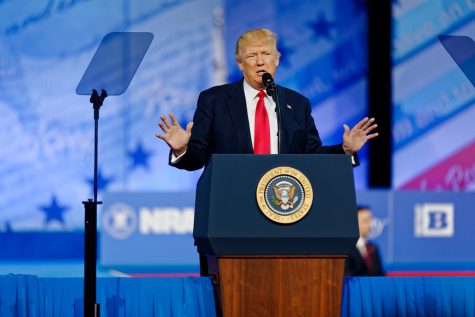 Another notable absence was former Republican presidential nominee and CPAC straw poll winner, Senator Mitt Romney. Romney was one of seven GOP senators to vote to impeach Trump for his involvement in the Capitol Riots.
Many conservatives believe that riding the MAGA wave is the formula for success in future elections. CPAC pollster Jim Mclaughin proclaimed this theory after reviewing the straw poll numbers at the end of the conference, "The base of the grassroots Conservative movement, the base of the Republican party is either Trump or a Trump backed candidate."
CPAC also showcased big name Republicans and potential 2024 presidential candidates such as Senator Josh Hawley, Senator Ted Cruz, Senator Tom Cotton, South Dakota Governor Kristi Noem Florida Governor Ron Desantis, and former Secretary of State Mike Pompeo, but no speaker seemed to garner near the attention of Trump's Sunday arrival.
Because of Covid protocols CPAC attendance was very limited, but that did not stop some Trump fans from finding a way to be a part of the event.
Beginning hours before his speech, hundreds of Trump supporters brandishing Trump flags and MAGA gear, began to gather outside the Hyatt Regency awaiting the arrival of the former president's motorcade. From car horns, to vibrant chants, to quiet onlookers, the crowd featured a mix
Walking through this crowd, I had the opportunity to speak with multiple Trump supporters and find out what brought them to the event.
The first woman I spoke with was wearing a 'Cheated not defeated' shirt and expressed her excitement for Trump's arrival, "I'm here to support my president." She also expressed disappointment with other members of the crowd that had expletive signs about President Joe Biden and Vice President Kamala Harris, "I think that's disrespectful. You're not gonna win anybody like that."
I spoke with a group carrying Republic of Vietnam flags and wearing Trump apparel. I asked them what they want to hear from Trump in his speech, "We love Trump for being strong against China and Socialism. We want him to be a strong leader tonight."
"
We love Trump for being strong against China and Socialism. We want him to be a strong leader tonight"
Just as the day is long, it's not a Trump event without counter protestors. I had the opportunity to speak with some counter protestors gathered on the opposite end of the street of the Trump supporters. This group was wearing all black, many with Black Lives Matter gear and some with anti-Nazi apparel.
The group was busy filling mock "City Morgue" bags with cardboard to emulate body bags. I asked one of the members what this meant, he responded "These bags represent the neglect of the politicians in there (pointing to convention center/hotel) and their mishandling of the pandemic."
Sunday's heightened energy at CPAC compared to the first two days is indicative of what sells in the Republican party. While much of the country has moved on from the 45th president, Trump still remains wildly popular among his staunch supporters.
It is unclear if he will run for president in 2024, but it is obvious that Donald Trump will have a large influence on the future of the conservative movement and Republican party.