Minnesota Waits to Legalize Sports Gambling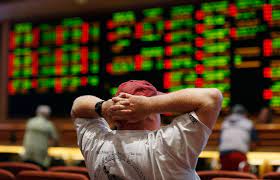 Minnesota is once again at risk of missing the opportunity to legalize sports betting, an industry that could bring in an estimated $40 million in new tax revenue to the state. In the spring of 2018, the United States Supreme Court issued a ruling that allowed states to legalize sports gambling.
Minnesota Legislation has seemed to push the issue aside, while Rep. Pat Garofalo continues to urge them to push the topic.
"
"I love Minnesota. I've lived here my whole life. I just don't know why we have to be the 45th or 46th state to do everything. "
— Pat Garofalo
"Our Government can't do anything quickly. We couldn't get rid of regulation for 3.2 beer. We just recently allowed Sunday liquor sales. It's a perpetual unwillingness to let adults act like adults," Pat says.
Since 2018, 25 states, as well as the District of Columbia, have legalized sports gambling. In 2021, "nineteen states will decide whether or not to legalize sports betting, either through voter referendum or state legislature statute" according to an article by CNBC.
Why wait?
Sports betting is far from a new industry in the state of Minnesota, as the state bets an estimated $2.5 billion dollars a year through local bookies and offshore websites, even though a quick trip to Iowa could legalize the same bets. So why wait? Minnesota legislature has the ability to bring Vegas to the snow! The opposition of legalization comes from both Minnesota's tribal nations, as well as the negative notion of gambling.
Legislation has talked about creating a bill that limits sports gambling to casinos, but the tribal nations continue to oppose this, due to the almost inevitable growth to a much more mobile, digital construct. Tribal casinos oppose this transition because similar to how state lottery revenues are reserved for use by the state, gambling revenues are reserved for use by the tribes. The reason being, tribal casinos are tax-exempt, or free of tax, because they are government operations, not private, for-profit businesses. These tribal nations make an extremely valid point, as the introduction to off-site gambling would go against the Indian Gaming Regulatory Act, which protects gaming as a means of generating revenue for the tribes, which encourages economic development of these tribes.
Although the opposition makes a strong case, the benefit that would come from legalization would outweigh the costs. Minnesota likes to take this case very slowly, and the topic has yet to be voted on through Legislation. Limiting sports gambling to casinos could be a great way to increase annual revenue for tribal nations. It is a fact that Minnesota casinos boost the economy of Minnesota as a whole, even though the profits don't go directly to the state through taxes.
According to a report, from purchasing to payroll to tourist dollars, tribal casinos pump an estimated $1.8 billion in direct and indirect revenue back to the state each year. At Mystic Lake Casino Hotel alone, nearly 600 are employed, and the casino also draws a steady state of tourists to the town, according to Prior Lake City Manager Frank Boyles. Tribal gaming has supported job creation and business growth, so why would flooding casinos with a new audience do harm?
Sports gambling is a multi-billion-dollar industry that is far from its peak. The global sports betting industry reached a market size of 203 billion U.S. dollars in 2020. Tribal governments in Minnesota have seen a total of $0 from that, with a market that is booming throughout the state.
Sports betting guru Dave Portnoy, and his company Barstool Sports recently partnered with a company called Penn National Gaming. Since their partnership in January, 2020, Penn National (NASDAQ: PENN) has grown nearly 750%. This exponential growth is something that the state of Minnesota as a whole is missing out on by failing to encourage legislation to debate the topic. Sports gambling would not only bring in revenue to tribal nations but would also bring a large audience to sports that usually get minuscule views. The domino effect proves to be a very powerful force, but in this case, the dominos would be standing up, instead of falling down.