22 Artists to Watch in 2022
October 1, 2021
With Fall upon us in earnest and the long Winter months right around the corner, 2021 has almost come to an end. In anticipation of the coming year, we here at The Minnesota Republic have compiled a list of 22 hot hip hop artists to keep an eye on in 2022. Artists are broken down by region/style.
Brooklyn Drill-
Sleepy Hallow: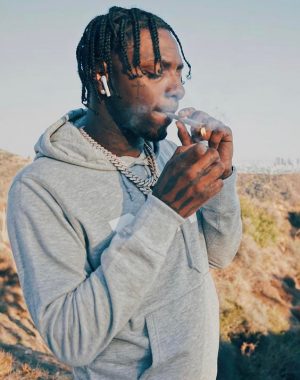 Originally from Jamaica, Tegan Joshua Anthony Chambers, known professionally as Sleepy Hallow, hails from the Flatbush neighborhood of Brooklyn, NYC. The burrow produces some of hip hops biggest legends. At 21-years-old, MC's most popular song "2055" boasts 158 million plays on Spotify alone. Embracing the same hard hitting Brooklyn Drill style popularized by the late Pop Smoke, Sleepy Hallow is part of a new wave of hip hop that is set to take over in 2022.
Sheff G: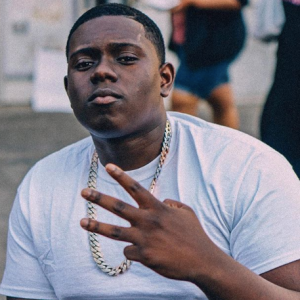 Also hailing from the Flatbush neighborhood of Brooklyn, NYC, Sheff G is a frequent collaborator of Sleepy Hallow and is another member of the incoming Brooklyn Drill wave. Michael Kyle Williams, known by his stage name, Sheff G, gained notoriety in 2017 with his single "No Suburban." At just 23-years-old Sheff G has more than 10 tracks with over a million plays respectively on just Spotify alone. With a distinctive style and the numbers to back it, up Sheff G will be leading the charge of Brooklyn Drill artists looking to make their mark in the new year.
Rah Swish: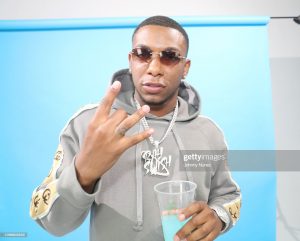 Beginning his rap career late at the age of 19, Rah Swish is another BK Drill rapper who was close with Pop Smoke before his passing. Although the duo was close, Rah Swish has had a successful career of his own starting with his breakthrough hit, "Treeshin," which made its debut in 2019. Affiliated with the same NYC street gang, the Woo's, Rah Swish made an appearance on the latest posthumous Pop Smoke release, Faith. At 23-years-old Rah Swish set himself up for success with two tracks of off his most recent album, Woo Forever, clearing over a million units respectively.
Bizzy Banks: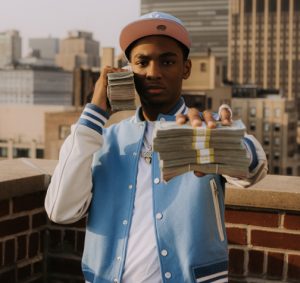 Another vanguard of the Brooklyn Drill movement, Bizzy Banks is the son of a Trinidadian-American family has made a name for himself at just 24-years-old. Since his 2019 breakout hit "Don't Start" Bizzy Banks, real name Majesty Moses, has gone on to put up numbers with his 2020 album GMTO Vol. 1 doing some serious numbers on streaming services. Also featured on the posthumous Pop Smoke project, Faith, Bizzy Banks will undoubtedly be a big name in 2022 alongside his fellow up-and-coming drill artists.
Minneapolis Sound-
Pardyalone: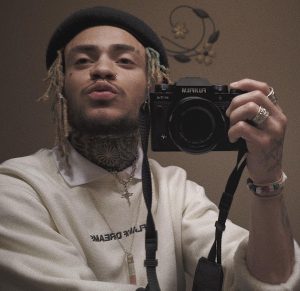 A native of Eden Prairie, Minnesota, Pardyalone is one of the most unique talents to come out of the Twin Cities in a long time. With moody melodic cuts like "Stuck in a Dream" and "Sincerely F**k You," and upbeat tracks like "Addict" and his newest single "Mission" Pardyalone, real name Kalvin, has something for everyone. At the beginning of his career and only 22-years-old, Pardyalone crafts unique visuals for many of his singles and always brings something new to the table. As someone who is just beginning their career and tapping into their full potential, I highly recommend giving Pardyalone a listen as he is undoubtedly going to be a big name in the near future.
Kelvino: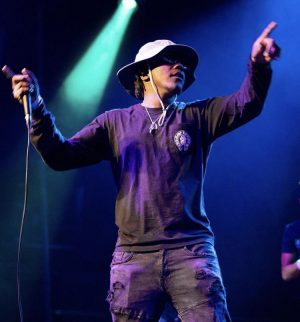 Kelvino, real name Kelvin Kuria, reminds me of early Lil Yachty, and would have been included in the Auto-tuners and Harmonizer's section if not for his Twin Cities residency. With songs like "Hang W/ Me!" a prime example of Kelvino's heavy use of auto-tune and eclectic beat choice it is clear that he has a style all his own. At the age of just 21-years-old Kelvino has already built up somewhat of a cult following in the cities and recently graced the stage at First Avenue for the first time. With connections to Como's own Water Wave TV, Kelvino will surely be a fixture in the Twin Cities rap scene for years to come.
Smoove Mackiveli: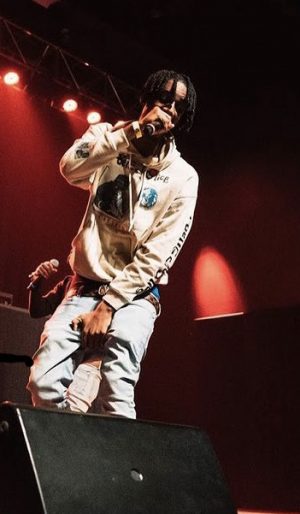 Born in Texas and later raised in New Jersey, Smoove Mackiveli has resided in the Twin Cities for close to 10 years now. As someone who has lived in multiple regions with their own influential hip hop style, Smoove Mackiveli boasts a hybrid style that is less "Minnesotan" than his contemporaries on this list. With a gravely tone and delivery that is reminiscent of G Herbo and the Chicago Drill style, Smoove Mackiveli makes music with movement. Signed to the Minneapolis based L.I.F.E. label, Smoove Mackiveli will be one to watch in 2022.
2tone: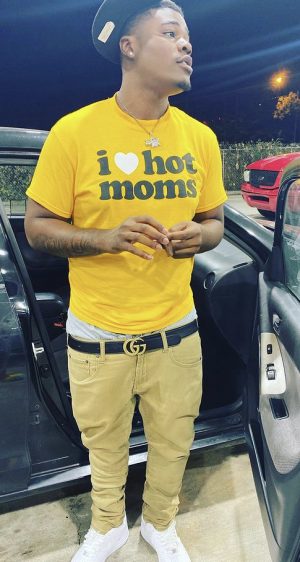 Also signed to the L.I.F.E. label alongside Smoove Mackiveli, 2tone is a super hot artist coming out of Minneapolis. Hailing originally from Baltimore, Maryland, 2tone spent most of his childhood in the Twin Cities which is evidenced in his style and demeanor. Starting his rap career in his Junior year of high school, 2tone has gone on to release his first very successful EP, Get Intune or Get Stepped On, featuring the single "Devious." One of my favorite 2tone tracks, "I Get High," features him alongside Smoove Mackiveli and their fellow label-mate, Juney B. The track boasts over 100,000 plays on Spotify alone.
Juney B: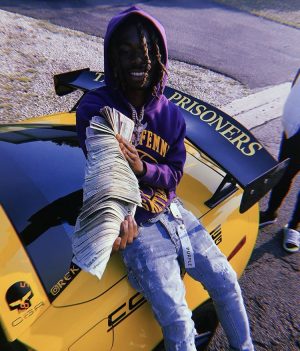 Much like Smoove Mackiveli, Juney B's family bounced around for much of his early years until he landed in Minneapolis while he was in just the third grade. A gifted entertainer from a young age, Juney B recalls being encouraged to participate in theatre and choir at school, and being complimented on his voice and vocal ability. His professional career kicked off in 2019 with the release of his debut single "Down." Since then, Juney B has gone on to release numerous singles, including collaborations with his fellow label-mates Smoove Mackiveli and 2tone. His most recent release, "Bonus," has done extremely well on streaming platforms and is currently in my daily rotation.
Auto-tuners and Harmonizers-
SahBabii: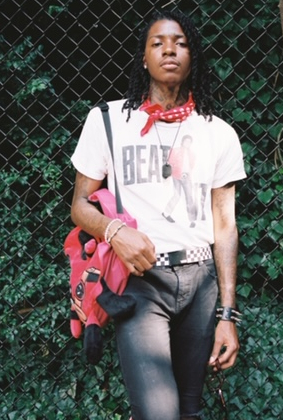 Perhaps more well known than some on this list but undoubtedly not well known enough, Saaheem Malik Valdery, more commonly known by his stage name, SahBabii, is a melodic lyricist hailing from Atlanta, Georgia. 24-years-old, SahBabii first gained notoriety in 2017 with his single "Pull Up Wit Ah Stick" featuring Loso Loaded. He would go on to peak at No. 8 on Billboard's "Next Big Sound" chart in July of 2017. Although Billboard identified SahBabii as a wave creator in 2017, all good things come back around and in 2022 we can be certain he will again be setting the tone. After almost a year of silence since the release of his 2020 masterpiece, Barnacles, SahBabii finally released his highly anticipated single "Bread Head" to critical acclaim. A week post release the track currently boasts over 200,000 plays on Spotify alone.
SoFaygo: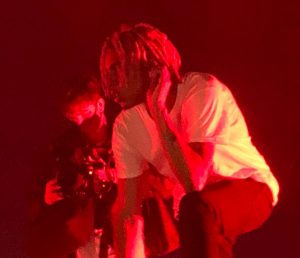 Hailing from Grand Rapids, Michigan, Andre Dontrel Burt Jr. known by his stage name SoFaygo will undoubtedly be one of the hottest harmonists of the year. Breaking out of obscurity in 2019 with his single "Knock Knock," I recently saw SoFaygo on tour with Trippie Redd and let me tell you he sounds every bit as good in person. Signed to Travis Scott's Cactus Jack Records, SoFaygo is a rising star at only 19-years-old. With smash hits like "Every Day" and "Off The Map" clearing millions in plays, as well as being featured on one of the hottest albums of the year (Trippie Redd, Trip At Knight) SoFaygo will be running the board in 2022.
Reese Youngn: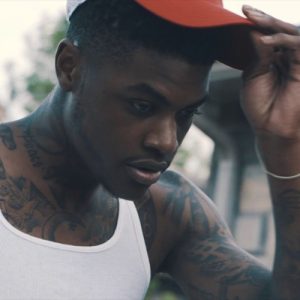 Initially going viral in March of this year with his breakout single, "No More Parties REMIX" (The Let Out), Reese Youngn has perhaps one of the most unique flows and deliveries of any artist on this list. With a voice that sounds like gravel and absolutely vicious bars, Reese Youngn has made a name for himself in a very small amount of time. Hailing from the Homewood neighborhood of Pittsburgh, Pennsylvania, Tyreese Maleek El, better known as Reese Youngn, started his musical career in 2019 with the release of his first single "Spin It." Since then he has gone on to release a slew of singles including his breakthrough hit "No More Parties REMIX." The track currently boasts over 11 million views on YouTube alone.
Shordie Shordie: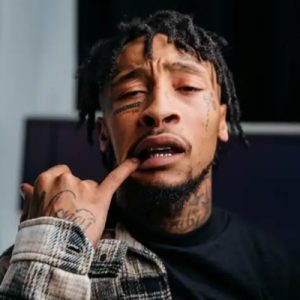 Entering the spotlight for the first time in 2018 with his breakthrough single, "B*tchuary," RaQuan Hudson, better known by his moniker Shordie Shordie is a 25-year-old MC hailing from Baltimore Maryland. Another rapper with a signature sound and aesthetic, Shordie Shordie's unique delivery and style are something that set him apart from other rappers in the industry. Much like many of the other MC's on this list he is very much in a category of his own sonically. Debunking his status as a possible one-hit-wonder, Shordie Shordie followed up his massively successful debut album Captain Hook, with his even more commercially successful 2020 project, >Music. With his 2021 release Memory Lane, the Maryland native has established some consistency to his career, so it is a safe bet he will have more to offer his fans in the coming year.
Teezo Touchdown: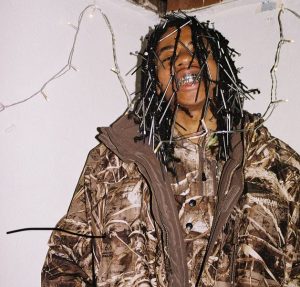 First entering the mainstream spotlight due to his cameo on Tyler the Creator's Call Me If You Get Lost, Teezo Touchdown is a perfect example of 80's Prince vibes meet hip hop. Hailing from Beaumont, Texas, Touchdown has long been your favorite rapper's favorite rapper, receiving cosigns early on from the likes of Chance the Rapper, Trippe Redd, and the aforementioned Tyler the Creator. One thing that is impossible to miss about Teezo Touchdown is his appearance. He has nails in his hair. Nine-inch, nickel plated nails like you would use to put together a large wooden deck, and he has hundreds of them pierced though his dreadlocks hanging around his head. With a look that draws attention and a sound that is revolutionary, Teezo Touchdown could be the face of hip hop in 2022.
NoCap: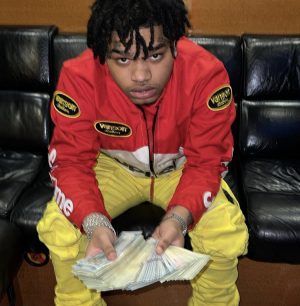 Definitely a harmonizer and less of an auto-tune enthusiast, NoCap, real name Kobe Vidal Crawford, was on my list for artists to watch last year. Last year was going to be his year, with breakout hits like "Ghetto Angels" and "Radar" earning the 23-year-old MC millions of plays. That was until he was arrested and incarcerated for a short stint. Fortunately for NoCap and the rest of us he was released early on in 2021, and has made a triumphant comeback with his first single to be released since his incarceration, "Vaccine," doing some serious numbers with over 2 million plays on Spotify alone. A free man with the intention of releasing new music in the coming months, NoCap is set to have the all-star run that he should've had in 2021 and we cannot wait to see it.
Wordsmiths and Lyricists-
Slowthai: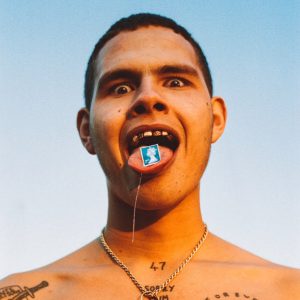 The one and only MC to be featured on this list from across the pond, Tyron Kaymone Frampton, better known by his stage name Slowthai, is a hard hitting lyricist hailing from Northampton in the United Kingdom. Embracing a punk/grunge inspired approach to his particular hip hop blend, Slowthai brings a unique beat selection, a willingness to scream, and a cigarette smokers voice to all of his cuts. Slowthai rose to popularity initially in the U.K. for his uniquely gritty style and raw unbashful lyrics addressing political issues in Britain including Brexit, and Theresa May's tenure as Prime Minister. Slowthai's popularity grew and spread to the United States with the release of his 2021 album, Tyron, which featured prominent American artists A$AP Rocky, Dominic Fike, and Denzel Curry. With a unique style all his own it will be interesting to see what Slowthai has coming for fans both domestic and abroad in the coming year.
Booka600: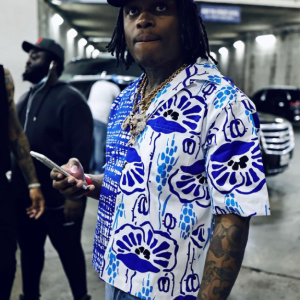 A member of Lil Durk's Only The Family collective, (OTF) Booka600 was prominently featured on the collectives most recent project Loyal Bros. Hailing from Chicago, Illinois, Booka600 combines melodic hooks with hard hitting verses and lyrics with meaning. Starting his professional music career in 2016 with his single "4 the Win," Booka600 has gone on to do some serious numbers with his most recent release, "Relentless," featuring Lil Durk clearing over a million plays on Spotify alone. With the release of his solo debut album, Loyal, on October 1st, Booka600 will surely be on top of the charts in 2022.
DC The Don: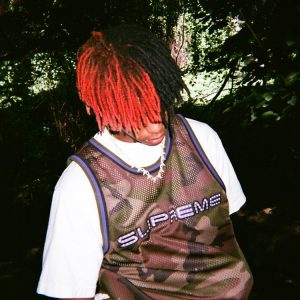 Hailing from my home state of Wisconsin, DC The Don has been on the come up for awhile now but is set to take over in 2022. Coming straight out of Milwaukee, the 22-year-old MC first gained notoriety in 2017 when his breakout single "Everything 1K" was featured in Big Baller Brand's first ever sneaker commercial. DC The Don was something of a basketball prodigy who developed ties to the Ball family during his stint as a high level hooper. Daijon Davis, more commonly known by his stage name DC The Don, broke out of obscurity and into the mainstream in 2020 with his massively successful project Come As You Are (CAYA). The single "Worst Day," (stylized "Worst Day :("  ) has gone on to be streamed over 5 million times on Spotify alone. Things are looking up for DC, and with a variety of widely successful singles being released in 2021, 2022 will surely bring nothing but more blessings to the young MC.
Fedd The God: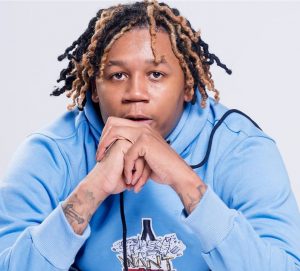 James William Fedd Jr, AKA, Fedd The God is a 26-year-old recording artist hailing from Pittsburgh, Pennsylvania. Signed to fellow Pennsylvanian Wiz Khalifa's label "Taylor Gang Entertainment." I first encountered Fedd on a track with Wiz titled "Activated." The song absolutely slaps, and has nearly 2 million plays on Spotify alone to date, making it Fedd's second most popular cut. His single "Yea Yup" which was featured on his 2021 album, Speed Racer, is his most played track with well over 2 million plays. With a friend and mentor in Wiz Khalifa as well as an original and infectious sound, Fedd The God will be a big name in the near future.
Fenix Flexin: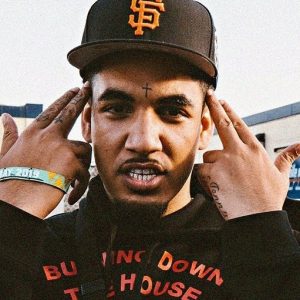 One fourth of the Shoreline Mafia crew, Fenix Flexin made a name for himself this past year with the release of his debut solo album, Fenix Flexin Vol 1. With features like Drakeo the Ruler, Rob Vicious, and Bravo The Bagchaser, Fenix Flexin Vol 1 is a prime example of the new L.A. sound. With less of a focus on auto-tune and production, and an emphasis on hard hitting punchlines and consistent flows, Fenix Flexin is one of a new generation of west coast artists that are departing from past traditions. As the Shoreline crew continues to explore solo projects and evolve their sound we will surely be hearing a lot about Fenix Flexin.
$NOT: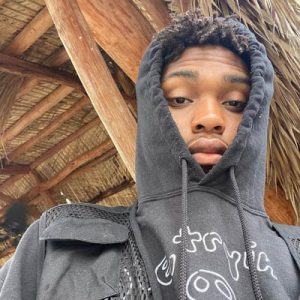 If you haven't heard of $NOT yet, it's surprising, but it will undoubtedly change soon. One of the bigger names to grace this list, Edy Edouard, stage name $NOT, is a 23-year-old artist coming out of West Palm Beach, Florida. Originally from New York, a young Edy moved to West Palm Beach at just seven years old. It is apparent when listening to $NOT's style and cadence that he borrows more from his new stomping ground of Florida than from the New York brand of rap. With a low murmuring flow and bass-heavy beats, $NOT has done some serious numbers with multiple tracks breaking the 100 million mark on Spotify. With a cosign by Lyrical Lemonade's Cole Bennett, as well as major mainstream success, $NOT will undoubtedly be one of the biggest names around for the foreseeable future.
SG Tip: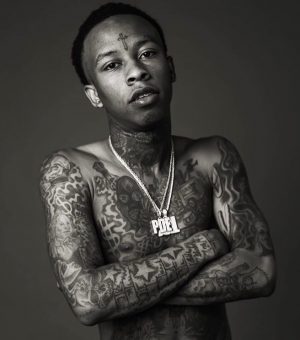 A major up-and-comer hailing from the east side of Atlanta, Georgia, SG Tip is a prominent member of 21 Savage's "Slaughter Gang" and has close ties in the Atlanta rap scene. Entering the rap game in 2017 with his debut album, NWA: N***a With Ambition, SG Tip has been a fixture of the Atlanta underground scene ever since. SG Tip first appeared on my radar in January of 2018 with the release of his track "Looking For Me" Featuring BC. The track, as well as many of Tip's other popular cuts, was produced by hip hop legend Pierre Bourne. With connections to 21 Savage's camp as well as close ties with Atlanta heavyweights like Pierre Bourne and Young Nudy, there is no doubt that SG Tip will continue to bring the heat in 2022.