Aaron Rodgers Fined for COVID-19 Protocol Violations
Aaron Rodgers has dominated headlines since November 3 when he tested positive for COVID-19. The NFL's protocol will force Rodgers to spend 10 days away from the team. This ruled him out for the Green Bay Packers' Week 9 matchup against the Kansas City Chiefs. The Packers' controversial 2020 first round draft pick, Jordan Love, made his first career start in the wake of Rodgers' positive test.
Love's debut was rather mundane. He threw for 190 yards, one touchdown, and one interception. This stat line is already far from impressive, but the eye-test further proved that Love is clearly not ready to be a starting quarterback in the NFL. To most of America's discontent, this expands Rodgers' leverage over the Packers and sets him up to do whatever he wants in the upcoming offseason. It is easy to assume that Rodgers was internally pleased with Love's disappointing performance. His public comments, made on "The Pat McAfee Show," refused to acknowledge the common take that Love played poorly. "I'm really proud of him, the way he went about his business," Rodgers said.
"
I'm really proud of him, the way he went about his business
— Aaron Rodgers
In an August press conference, when asked about his vaccination status, Rodgers responded with, "I've been immunized." The eye-catching drama of this situation came forth when NFL Network Insider Ian A reported that Rodgers' is not vaccinated against COVID-19. This is especially intriguing due to Rodgers' apparent disregard for the NFL's COVID protocols for unvaccinated players.
The first clear violation of these rules was his admitted failure to wear a mask during any press conferences. Rodgers commented about this rule in his interview with Pat McAfee. "Some of the rules are not based in science at all. They're based purely on trying to out and shame people, like needing to wear a mask at a podium when every person in the room is vaccinated and wearing a mask makes no sense to me. If you get vaccinated to protect yourself from a virus that I don't have as an unvaccinated individual, then why are you worried about anything I can give you?"
The NFL had plenty of evidence to prove his guilt as all his maskless press conferences are on video. This same interview provided another quote from Rodgers that brings his misunderstanding, or negligence, for COVID rules to the limelight. He stated, "I have followed every single protocol to a 'T'" apart from the press conference rules. This is clearly not true based on his social media post from Halloween weekend. The rule for unvaccinated players is to avoid groups of more than three people. His posted images show he was at a Halloween party that clearly had more than three people.
The resulting repercussions of the 37-year-old quarterback's rule breaking left much to be desired for those who condemn his actions. The NFL's investigation led to three fines. Aaron Rodgers was fined $14,650. The other two fines were imposed on Allen Lazard and the Green Bay Packers Organization as a whole. Lazard, who accompanied Rodgers at the Halloween party, was also fined $14,650. The Packers were fined $300,000 for failing to police the behavior of their players.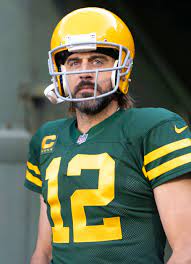 The Packers' team president, Mark Murphy, released a generic statement where he said, "We respect the League's findings and we recognize the importance of adherence to the COVID protocols to keep our team and organization safe and healthy… We will continue to educate the team regarding the importance of the protocols and remain committed to operating within the protocols." Both the players and the team were warned that they will face steeper punishment if they violate protocols in the future.
Executives from several organizations connected to Rodgers were disgruntled by his actions and subsequent fines. Adam Schefter reported that a team executive from the NFL told ESPN, "That's B.S. … What's going on in Green Bay, that's not what teams were told by the NFL. Our players wore masks all the time. We made our guys that weren't playing wear masks."
A Wisconsin-based health care organization went as far as to end their partnership with Rodgers. Prevea Health said in a statement, "Prevea Health and Aaron Rodgers have made the decision to end their partnership effective Nov. 6, 2021… Aaron has been a partner of Prevea Health, serving as a spokesperson and supporting the health care organization's health and wellness initiatives throughout Wisconsin, since 2012. Prevea Health remains deeply committed to protecting its patients, staff, providers, and communities amidst the COVID-19 pandemic. This includes encouraging and helping all eligible populations to become vaccinated against COVID-19 to prevent the virus from further significantly impacting lives and livelihoods."
Although there is much more to be discussed in terms of Aaron Rodgers' beliefs and future, this current discourse will likely end soon due to the NFL's testing protocol that will allow Rodgers to go untested for the rest of the season. As long as Rodgers gets approval from a physician, he will be allowed to return to the team on Saturday and be ready to go for the Packers' Sunday game against the Seattle Seahawks. This will be a good opportunity for him to return to form and get back on track to either silence his many haters or continue his tradition of playoff heartbreak.