Gopher Volleyball Player Taylor Landfair Named Big 10 Player of the Year
After a tumultuous freshman year in which she suffered a significant abdominal injury, redshirt sophomore Taylor Landfair was named Big Ten Volleyball Player of the Year for the 2022 season, making her the sixth Gopher to receive the award in the past eight years. This award is just one among many the outside hitter has won during her career. In high school, she was named the No. 1 overall recruit by Prep Volleyball and was the 2018 Illinois Gatorade Player of the Year. During her Freshman season at the University of Minnesota, Landfair was named to the First Team All-Big Ten team, Freshman All-Big Ten, and was a two-time Big Ten Freshman of the week. Her statistics reflected her strength on the outside as she earned the second most kills (212) and averaged 3.03 kills per set. Unfortunately, due to COVID-19, Landfair and the rest of the Gopher Women's Volleyball Team were not able to play in front of fans.  Nevertheless, the team excelled and ended the season with a 23-9 record and made their way to the NCAA Regional Final, which they ultimately lost 3-0 to the Wisconsin Badgers.
After her successful Freshman year, expectations were high for the outside hitter. Unfortunately, only 9 games into her Sophomore season, she suffered an abdominal injury that ended her season.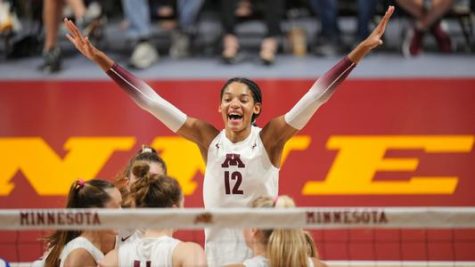 The Gophers made the decision to redshirt Landfair and she entered the 2022 season as a redshirt Sophomore. This proved to be a wise decision as she came back stronger than ever. During the 2022 season, Landfair played in all 30 matches, totaling 106 sets. Of those 30 sets, Landfair recorded double-digit kills in 27 of them. Starting the season strong she led Minnesota to their first win of the season against Baylor with 15 kills and 6 digs. The following game she was named MVP of the Big Ten/Big 12 Challenge after tallying 15 kills vs TCU. Her talent continued to shine as she recorded a season-high 16 kills with 4 blocks and 7 digs against Texas during the third game of the season. She refused to remain stagnant in her quest to break personal records as she recorded a career-high 28 kills and 9 digs against Oregon on September 9th, 2022. She came close to matching her career-high just a few games later against Iowa with 25 kills. Landfair proved that she is a versatile player after recording a career-best 8 blocks against Iowa. She put on another dominant performance on  November 4th against Michigan in which she posted 20 kills and 5 digs. In the Gopher's second to last regular season game, Landfair dominated OSU with 25 kills and 9 digs. 
The Gophers now sit 2-0 in the postseason with a 3-0 win against Southeastern Louisiana and another 3-0 win against the University of Northern Iowa, in which Landfair posted 11 kills. The Gophers are on track to put on a strong performance in playoffs this year and will undoubtedly look to Landfair to continue her strong hitting and blocking game. The Gophers face Ohio State in Austin, Texas on December 8th, 2022. The Gophers recently faced the Ohio State Buckeyes on November 25th, 2022, and were able to come out with a 3-1 win. That win was secured by Landfair's 25 kill performance on the Buckeye's home court. Her performances this year reflect the unwavering desire to succeed that Landfair has displayed since her career began. Fighting through the adversity of a major injury, Landfair showed that she is not one to rest on her laurels and continues to evolve as a player. With several more years of eligibility, Landfair's potential as an athlete still has time to develop.  As the Gophers aim for a deep playoff run, Big 10 Player of the Year Taylor Landfair is sure to play an essential role in the team's success.