Winter Storm Cancels Classes at University of Minnesota
University of Minnesota students were notified on Tuesday, about adjusted modes for classes and different cancellations across the Twin Cities campus. The changes are in light of the currently developing snowstorm sweeping across the surrounding area. 
The storm is predicted to be in effect throughout the next few days, acting in a two-part system with a lull happening sometime in the late morning Wednesday. Some reports say that the metro area could see 18-20 inches of snow and wind speeds of up to 50 mph. The combination of these will mark this storm as one of the largest in Minnesota ever. 
Students today received an array of notifications and emails from teachers and administration regarding the adjustments needed to be made for the oncoming weather. Myron Frans, the Senior Vice President for Finance and Operations at the U of M, sent out a campus-wide email saying "Due to the weather forecast, University officials have determined the Twin Cities campus will move to reduced operations tomorrow, Wednesday, February 22 at 2 p.m. and continue through Thursday, February 23 at 10 p.m." He added that "Coursework should move to distance/online learning between 2 p.m. Wednesday and 10 p.m. Thursday. If your course cannot be delivered via distance, it should be canceled."
Additionally, only "essential on-campus employees" are to report to work during the next few days. "We urge managers to work with essential on-campus employees to ensure they are taking proper safety precautions" Frans added. 
University of Minnesota campus bus services are to be shut down on Wednesday at 7 pm and will resume Friday morning. Campus dining services will also have reduced hours and locations. 
The news of classes being conducted online and or canceled comes as a shock to many students, as we remember the backlash that University Administration got last winter for refusing to cancel classes on dangerously cold days. January 2022 featured a total of 5 days in which temperatures were below -10 degrees, and even with the addition of windchill, classes were not canceled or moved online. 
This can mean that either the requirements that the University of Minnesota has to push for this modal change have been adjusted, or that this storm truly will be dangerous. 
Colonel Matt Langer, Chief of the Minnesota State Patrol, seems to think it's the latter. Regarding the storm, he says "If you have a chance to not tempt fate, this would be the time to not tempt fate."
For the Minnesota Department of Transportation, Jacob Leosch said "We'll be doing our part to get the highways clear and a lot of the folks behind me will do their part to keep people safe. But the public has a huge role to play as well. We need your help", adding "I think as Minnesotans, we all know that winter is a team sport."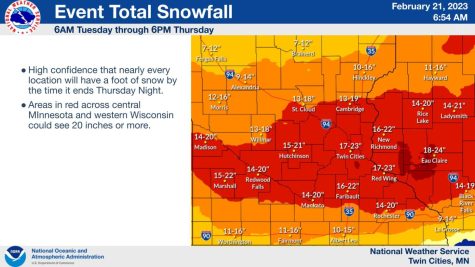 Earlier today, the National Weather Service Twin Cities tweeted "A historic winter storm remains on track to impact the area this evening through Thursday. This storm will come in two phases. 4-8" of moderate snow is expected from now until Wednesday morning. 12-16" of additional heavy snow along with gusty winds is expected with the 2nd phase from Wed afternoon through Thu. Storm-total snowfall amounts of 16-20" are likely." 
The general consensus between State and University Officials is that it is safest and smartest to stay at home, and especially stay off the roads as much as possible. Prepare to spend the next few days in a blizzard warning, and take classes online if necessary. If driving is absolutely necessary, prepare a winter kit for your vehicle.