CPAC 2021 Reporter, CPAC 2022 Candidate for Governor: Kari Lake
The state of Arizona has been under a political microscope ever since the presidential election in 2020. This came with plenty of controversy, as former president Joe Biden ran against Donald Trump. Arizona was to be a key swing state, and whoever won the state would have a great chance at securing the majority of the electoral votes in order to become the next president. In the end, Joe Biden did win the state of Arizona, which was only the second time a Democratic candidate won the state of Arizona since Bill Clinton in 1996 and Harry Truman in 1948.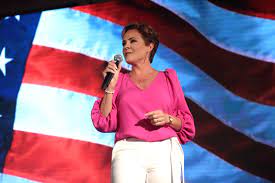 Enter reporter Kari Lake. In March 2021, she was a female reporter for the news station KSAZ-TV for 22 years in Phoenix. Lake announced she would be resigning from the FOX-owned television station. Now, she is running for governor of Arizona. One of her biggest claims in her campaign is that Donald Trump is the one who actually won the state of Arizona in the 2020 election, not Joe Biden. 
At CPAC 2022 in Orlando, Florida, her speech was just two speeches ahead of former president Trump's speech. Lake has been endorsed by Donald Trump, as well as by My Pillow CEO Mike Lindell. Her biggest goal is to share the real story of what happened in the 2020 presidential election in the state of Arizona. 
Her speech was about 15 minutes long and covered many topics. The first thing she discussed was that at CPAC 2021, she was covering the event as a reporter. Now, in 2022, she was giving a speech just before Donald Trump. One of her main reasons for taking the route of running for governor was, as she declared, "journalism had been replaced with propaganda."
Lake was also quick to mention how the ""fake news" was too interested in faking Covid-19 deaths. One comical thing that she did: She pointed at the news stations that were present at the event and mentioned them not being honest about the country and the 2020 election. This got the entire crowd laughing and also intrigued with her speech. After this, she said to the reporters, "Forget what your bosses are saying and tell the truth!"
"
Forget what your bosses are saying and tell the truth!"
— Kari Lake
Her next point of emphasis was how rigged elections have consequences. The consequences of rigged elections that she mentioned included inflation, open borders (referring to the Mexican border), fentanyl and other drugs flooding the country through the border, and fentanyl turning into a weapon of mass destruction. She concluded this section of the speech by declaring all of these as consequences of the election of Joe Biden. After that section of her speech, she brought up how schools are still masking children during the pandemic. 
Her biggest argument was how none of this would be happening if Donald Trump were president. With the help of endorsements, Lake said, "I'm on course to become the most conservative governor Arizona has ever seen." This came with a roar of applause and a big smile on Lake's face. Her speech did have the entire conference watching with full attention for the entire speech. 
"
I'm on course to become the most conservative governor Arizona has ever seen"
— Kari Lake
In the end, she concluded by mentioning how anything is possible. She went from covering CPAC just as a reporter a year ago, to now being a speaker at the event before Donald Trump, who is also endorsing her in her campaign. Her story is very inspiring, and comes with many lessons. She did not just sit in the shadows, and report whatever her bosses told her to, whether it was true or not. Lake had the courage to step up, and strive for change, which is what she is seeking.