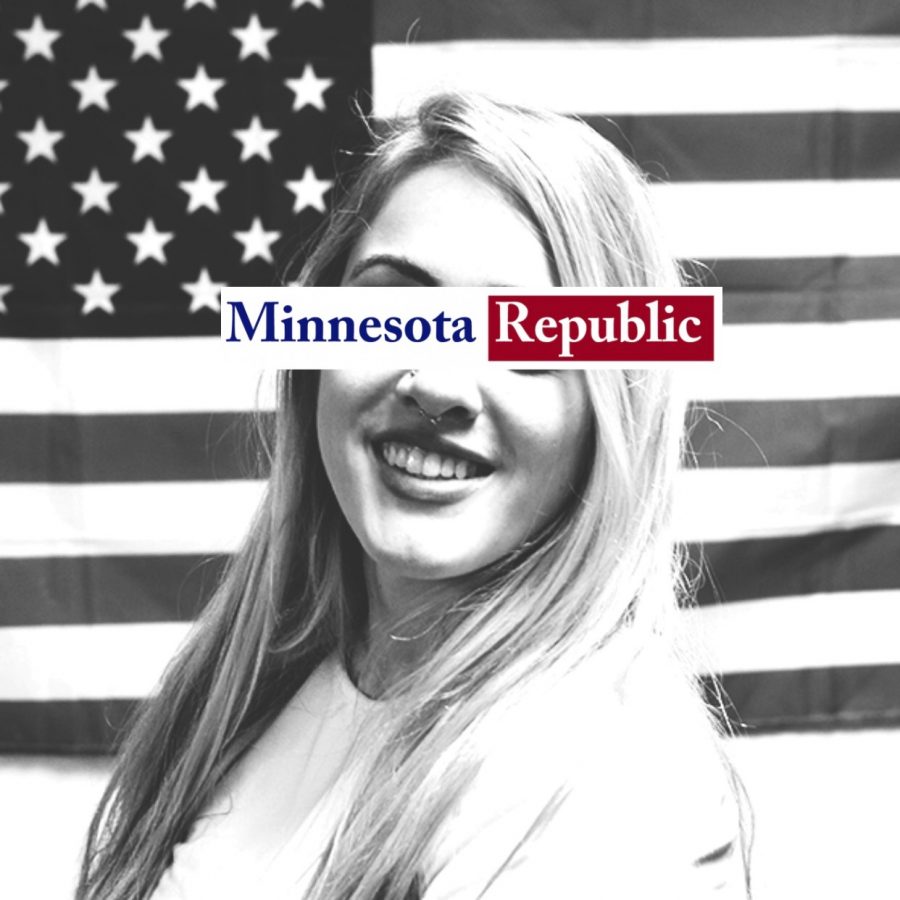 Tiana Meador, Editor in Chief, is a member of our senior editor team and a junior studying Journalism - Strategic Communications at The University of Minnesota - Twin Cities. Having been the Editor in Chief for her high school paper,
The Pony Express, 
Meador has established herself in Minneapolis area after receiving Honorable Mention in the
2017 Minnesota State Journalist of the Year Awards
. In her freetime, Meador enjoys working out, playing soccer, snowboarding, working on her car, and doing art/makeup. Her primary focus is in opening up discourse from political differences.
Tiana Meador, Editor in Chief
Oct 21, 2020

Authoritarianism: It Means More Than You Think

(Story)

Oct 01, 2020

2020 First Presidential Debate: A Full Breakdown

(Story)

Sep 28, 2020

MN Daily: First Amendment Celebration – Right to Peaceably Assemble

(Story)

Mar 11, 2020

University of Minnesota suspends classes, WHO declares COVID-19 a pandemic

(Story)

Mar 10, 2020

Breaking: UMN prepares online courses, cancels university travel amid spring break COVID-19 threat

(Story)

Mar 04, 2020

CPAC 2020: Donald Trump's propaganda meets conservative extremists

(Story)

Feb 08, 2020

News brief: American Conservative Union's CPAC update

(Story)

Feb 07, 2020

A challenge to our Antifa critics

(Story)

Nov 25, 2019

Students for a Democratic Society: disarm the police!

(Story)

Nov 10, 2019

Brandon Straka attracts diverse crowd, allows for open conversation

(Story)

Sep 28, 2019

Euphoria is all about euphoric vibes, not the storyline

(Story)

Sep 18, 2019

Augsburg's unstated political views promote exclusivity

(Story)

Sep 12, 2019

UMN's police force fails to protect when students need it most

(Story)

Apr 30, 2019

Excluding Trans Individuals from Specific Sports: Not as Problematic as it Seems

(Story)

Apr 30, 2019

Nature v. Nurture: A Controversial Angle

(Story)

Apr 17, 2019

Jeff Sessions Event Proceeds Despite Student Backlash

(Story)

Apr 17, 2019

What advertisers should learn from Facebook's recent scandal

(Story)

Apr 02, 2019

Hey Kim Kardashian, You're a Reality Star Not a Political Figure

(Story)

Mar 25, 2019

Ocasio Cortez Couldn't Get Stupider: Then She Opens Her Mouth

(Story)

Mar 25, 2019

Timely Warnings: Living Life on the Edge

(Story)

Mar 12, 2019

Town Hall Meeting on UMN's Growing Transportation Issue

(Story)

Mar 06, 2019

CPAC Contributor is Misogynistic, Offensive, and Shady

(Story)

Mar 06, 2019

Extremism makes Politics Unhealthy

(Story)

Feb 27, 2019

Let us Revisit Apple's Big News in 108 Seconds and Why it is so Genius

(Story)

Feb 21, 2019

Let me pay my student debt in peace, thank you

(Story)

Feb 20, 2019

Marijuana legalization: Minnesota's next step?

(Story)

Feb 08, 2019

Please add a Taco Bell to UMN's fast-food culture

(Story)

Feb 08, 2019

Parler App: revolutionizing free speech on social media

(Story)

Feb 08, 2019

We Need to Unite, Not Fight Each Other

(Story)

Feb 07, 2019

No, you are not famous for getting frostbite

(Story)

Jan 31, 2019

Samuel Little "becomes" one of America's most prolific serial killers

(Story)

Nov 19, 2018

Duo: the New, Annoying, Secure Way

(Story)

Nov 13, 2018

Death at The Bridges: reflective of a dangerous party culture

(Story)

Nov 08, 2018

A Campus Divided: UMN, please lead by example

(Story)

Oct 13, 2018

Donald Trump needs to capitalize on his text audience

(Story)

Oct 13, 2018

#Too movement: offensive, and wrongly pitting people against each other

(Story)

Sep 29, 2018

Two-State Solution does not accommodate current circumstances

(Story)

Sep 28, 2018

Abuse allegations not looking well on Keith Ellison

(Story)

Sep 26, 2018

Women: Traditionally, Politically Underrepresented

(Story)

Sep 18, 2018

The new iPhone XS: no gender discrimination here

(Story)

Apr 27, 2018

ISIS fades, Coalition forces stay distracted, Hay'at Tahrir al-Sham rises

(Story)

Apr 01, 2018

David Hogg: Not the Gun Authority

(Story)

Dec 15, 2017

University of Minnesota Housing Unfairly Prioritizes Students

(Story)

Dec 02, 2017

Chambers of Commerce suing Minneapolis, minimum wage crisis

(Story)

Dec 01, 2017

Al Franken faces potential Senate Ethics Committee investigation

(Story)